Accessible Technology Bulletin
A Free Resource From the Great Lakes ADA Center
January 2010
Volume 4 Issue 2
We offer Technical Assistance and Training on Accessible Technology
For more information, call 800-949-4232 (V/TTY)
Welcome to the DBTAC: Great Lakes ADA Center's quarterly Accessible Technology Bulletin
Technology Trainings & Events


(Central Standard Time)
Four Part Series on Accessible Social Media
January 25 - Feb. 15, 2010
Online Mondays 10am CST
Equal Access to Software and Information (EASI) will cover Second Life, Twitter, Facebook, and YouTube with international speakers. There is a registration fee.For more information go to:
Leadership Forum on Accessibility
January 28 - 29, 2010
Orlando, FL
This forum is sponsored by the Assistive Technology Industry Association (ATIA) and targeted for those in the corporate environment. There is a registration fee. For more information go to:
DISCOUNT CODE: FMK477
Ohio Education Technology Conference
February 1 - 3, 2010
Columbus, OH
This conference is geared toward teachers, faculty, librarians, instructional designers, administrators, students and will provide the opportunity to network, listen and explore, has a track on assistive and accessible and technology. There is a fee for this conference. To register visit:
Current Events in Accommodation Webinar
February 9, 2010 1pm CST
Online
The Tune in and stay up-to-date on current events in job accommodation, including tough accommodation situations, tricky ADA issues, and technology challenges. The speaker will provide practical tips for handling these and other job accommodation issues. This session is free. To register visit:
Wisconsin Statewide Transition Conference
February 17 - 19, 2010
Wisconsin Dells, WI
The 7th annual Wisconsin Transition Conference offers in-depth information for youth with disabilities in the transition process, including Web 2.0 and assistive technology. There is a fee for this session. For more information:
Web Accessibility Training
February 17 -18, 2010
Logan, UT
This hands-on training session, sponsored by Webaim, will teach basic web accessibility principles and to advanced accessibility techniques. There is a fee for this session. For more information:
A New Concept in Accessible Mapping
If a blind or deafblind traveler wants to visit a new environment, such as a city park, mall, train station, or bus transit center, with independence, the options or methods that have been available to travelers to "learn about" such environments have been limited.
One of the oldest methods involves the time-consuming task of independently exploring a new area with one's cane or guide dog. Depending upon the size and complexity of the area in question, this may indeed be a daunting proposition. Depending on the environment, it can be exceedingly difficult to gather the necessary information to form a complete and helpful "cognitive" map of such an area.
Another method available to travelers is to seek out the necessary orientation and familiarization support from a mobility instructor. This option, however, is not always easily available. State and agency services are vocationally based, and unless the traveler has a vocational reason for being there, the services would have to be paid for by the individual. Of course, some say that one can always just ask another pedestrian for information. However, as experienced blind travelers know only too well, the general public is not very adept in providing the kind of directions or orientation support that blind travelers need to walk a route alone.
An additional option is to gather the spatial information from an appropriately designed tactile map. Tactile maps that are simultaneously appropriate for low vision users are available in portable formats, and also in a permanently etched format that can be placed in a pedestal table. These types of accommodations are an excellent option. Unfortunately, very few environments provide them to blind travelers. Tactile maps are not specifically required by the Americans with Disabilities Act (ADA) and up to the discretion of the owning entity. Tactile maps are an excellent option for environment orientation, but they are not routinely provided.
This trend may indeed be changing. Both France and Japan have recently passed legislation that requires tactile maps be provided for all new public buildings. In a recent case involving the International Spy Museum in Washington D.C., a legally blind individual filed a complaint with the U.S. Department of Justice claiming that he and others were denied full and equal enjoyment of the goods, services, and facilities of the museum. As a result of the investigation by the Department of Justice, the museum agreed to increase access to its exhibits and programs for people who are blind or have low vision, including to provide tactile maps of the museum floor plan that visitors can borrow; and a qualified audio describer for any requested museum audiovisual presentations, computer interactives, or exhibits; and three, a qualified reader to read labels in all exhibitions.For more information visit: http://www.ada.gov/spymuseumfctsht.html
Advances in technology give users the option of handheld Global Positioning System (GPS) for outdoor settings. One significant obstacle to GPS is the units are expensive. Given that the overwhelming percentage of working-age blind and deafblind adults are either unemployed or severely under-employed, the costs are can be prohibitive.
ClickAndGo Wayfinding Maps (CNG) has recently been developed a new, exciting technology for accessible mapping. The service is free for any blind and deafblind travelers, provides detailed customized route guidance for both indoor and outdoor areas, and is fully accessible either by computer or via any standard telephone.
CNG was inspired by the often-used "directions" feature of Google Maps, Yahoo Maps, and MapQuest. With those services, sighted users make their selections for a starting point and destination from a drop-down menu of landmarks, and then click "GO" for driving or walking directions. CNG has taken this idea and programmed and compiled the necessary adaptations to meet the specific needs of the blind and deafblind. With this new technology, CNG is now able to provide non-sighted travelers with customized, mobility-friendly, walking directions. This service renders public facilities such as schools, airports, and hotels accessible to blind and deafblind travelers to a level of detail that is unparalleled by any other service or technology today.
It should be emphasized that CNG is not using GPS data, and that the service requires licensing by participating institutions. Following licensure, mobility specialists physically walk each indoor and outdoor route to compile the data. The goal of this service is to provide mobility-friendly, blindness-specific walking directions. That means clear landmarking and travel cues that cane and guide dog travelers can easily follow for accurate direction taking. To date, CNG has focused on adapting this technology for university environments, hotels, and schools for the blind.
For more information about this narrative mapping technology, please visit www.clickandgomaps.com. For more information about tactile maps, visit www.intouchgraphics.com
Join Us for the 2009-10 Accessible Technology Series
The 2009-10 Accessible Technology On-line Webinar series schedule is available. The series is hosted and coordinated by the DBTAC - Great Lakes ADA Center at http://www.adagreatlakes.org and the DBTAC-Pacific ADA Center at http://www.pacificada.org/ on behalf of the National Network of ADA Centers at http://www.adata.org/.
The National Network of ADA Centers at http://www.adata.org/ provide a comprehensive set of services for up-to-date information, consultation, referrals, resources, and training on the Americans with Disabilities Act for businesses, employers, governmental entities, service providers and individuals with disabilities.
Next Session on March 10, 2010 1 - 2pm CST
Guest Speaker: Neal Albritton
The next session in the Accessible Technology Webinar Series will be on Best Practice in Developing and Disseminating Documents Electronically
To register visit: www.ada-audio.org/Webinar/AccessibleTechnology/.
The other sessions in the series include:
May 12th, 2010 >> Successful Accommodations: Assistive Technology and Accessibility Working Together. Speaker: David Dikter, Executive Director of the Assistive Technology Industry Association
July 14th, 2010 >> Return on Investment: The Business Case for Accessibility. Speaker: Frances West, Director of the IBM Human Ability & Accessibility Center
September 8th, 2010 >> Creating Accessible Videos for Your Website. Speaker: Marsha Schwanke, Web Developer
The webinar sessions are free, but registration is required. Each session is 60 minutes in length. They will be held from 1:00-2:00 p.m. Central Standard Time (CST) on dates specified. To register visit Accessible Technology Webinar page at http://www.ada-audio.org/Webinar/AccessibleTechnology/Schedule/.
Receive A $50 Discount to the Leadership Forum on Accessibility at ATIA
The Assistive Technology Industry Association (ATIA) is hosting the Leadership Forum on Accessibility. The Forum is an exciting two-day event designed specifically to help large corporations, government agencies and educational institutions derive business value through accessibility. During the two days you will hear the business case for providing accessible solutions for your employees and clients with case studies from major corporations, government agencies and educational institutions. There will also be the opportunity to see the latest technology from 125+ leading assistive technology manufacturers and service providers.You can receive a $50 discount to the forum as a reader of the Great Lakes ADA Center Accessible Technology Bulletin. Use DISCOUNT CODE FMK477 when registering. For more information go to: www.atia.org/leadershipforum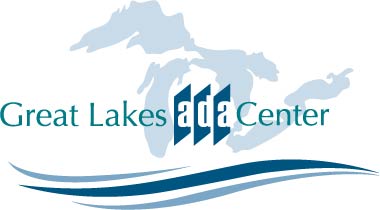 The Great Lakes ADA Center provides expert assistance via a national toll-free information line 800-949-4232 (V/TTY) or Online via Contact Us and presents customized trainings for employers, businesses, government, and individuals with disabilities regarding accessible technology and the Americans with Disabilities Act (ADA) of 1990.
Great Lakes ADA and Accessible IT Center
University of Illinois at Chicago
Department of Disability and Human Development (MC 728)
1640 West Roosevelt Road, Room 405
Chicago, IL 60608-6904