Welcome to the 2018–2019
ADA Audio Conference Series
The DBTAC - Great Lakes ADA Center started the ADA Distance Learning Series in May 1999. The Center's goal was to create a platform for issues regarding the Americans with Disabilities Act and people with disabilities through the Distance Learning Series. The program allowed for specific topics to be presented by experts in an arena that was conducive to open discussion. Since then, the project has grown to be national project know has the ADA Audio Conference.
The ADA Audio Conference is now a collaborative project of the ADA National Network composed of ten regional centers. The Great Lakes Center represents Region 5.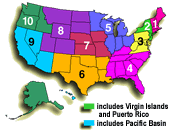 The ADA Audio Conference provides continuing education on regulations and trends under the Americans with Disabilities Act. The program is designed to offer advanced information on the ADA as building blocks to an individual's existing foundation of basic ADA knowledge. Participating in the Audio Conference can support professional development of an individual, an entire department or an entire agency for less cost than sending one staff to a comparable training event.
Education credits/certifications are available for some of the sessions. Check the series schedule to see what credits/certifications may be available at www.ADA-Audio.org. A certificate of attendance can be made available upon request once actual attendance/participation is documented. For more information visit www.ADA-Audio.org or call toll free 800-949-4232 (V/TTY).