Accessible Technology Bulletin
A Free Resource From the Great Lakes ADA Center
January 2007
Volume 1 Issue 2
We offer Technical Assistance and Training on Accessible Technology
For more information, call 800-949-4232 (V/TTY)
Welcome to the Great Lakes ADA Center's quarterly Accessible Technology Bulletin
Technology Trainings & Events
On-line and on-time: Supporting Technology Implementation for All Students
This webinar is sponsored by Don Johnston Incorporated and the Center for Implementing Technology in Education. There is no fee but pre-registration is required. For more information go to:
Leadership Forum on Accessibility
This forum is sponsored by the Assistive Technology Industry Association (ATIA) and targeted for those in the corporate environment. There is a registration fee. For more information go to:
Cognitive Disabilities and the Web: What We Think We Know
This webcast is sponsored by the National Center on Disabilities and Access to Education. The session is free, but registration is required. For more information go to:
NIMAS/NIMAC Implementation Workshop
This is an U.S. Department of Education sponsored event to clarify the IDEA 2004 Regulations. The meeting is intended for Region 4, including all Great Lakes states. The event is free with limited space. Register at:
California State University Northridge (CSUN) Annual Assistive Technology Conference
This international conference is sponsored by the Center for Disabilities at CSUN. There is a fee. For more information visit:
Assistive Technology Across the Lifespan
This conference is jointly sponsored by the Wisconsin Assistive Technology Initiative and WisTech Assistive Technology Program. For more information visit:
Tips for Increasing the Accessibility and Usability of your Website: Part I
Descriptive Page Title
First, use a descriptive page title. The page title is the very first thing that screen reader users hear when arriving at any web page, so it is truly essential that it is descriptive of the page. Again, everyone benefits from this because all users can use the page title to orientate themselves and confirm that they are on the page they think they are on. This is especially true for web users on dial-up connections where the page title displays a number of seconds before the rest of the page.
Descriptive Headings
Descriptive headings are also important. The use of on-page headings is one of the most important usability features. It helps screen reader users more easily understand the page structure. Although text on the page may appear to be a heading for sighted users, it must be labeled as a heading within the HTML code for screen reader users to know it is a heading.
Another usability benefit of using headings for screen reader users is that these users can call up a list of on-page headings and jump to the section of the page in which they're most interested. This works in much the same way as sighted web users scanning through web pages by glancing at headings. If headings are descriptive of the content contained beneath them it becomes far easier for screen reader users to find the information which they are after.
Short ALT Text
Many web developers are aware of adding ALT text to graphical images on a website. ALT text is the alternative text for images that gets read out to screen reader users. Any website offering even basic accessibility will provide this alternative text. Some websites try to over-explain the information conveyed by images, forcing screen reader users to have to listen to a lot of unnecessary and irrelevant information. Screen reader users often take longer than sighted web users to work through websites, so help make their surfing time easier with succinct ALT text.
Descriptive link text
Use descriptive link text that can be understood by someone using a screen reader. In other words, "click here" will not make sense to someone who cannot see the screen. The good news is that the use of descriptive link texts represents a usability benefit for everyone.
In conclusion, there are a number of relatively simple and painless things that can be done to improve usability for screen reader users and fortunately nearly all of them improve usability for people who visit your web site.
Built-in Accessibility Features of the Microsoft Windows Operating System
The Microsoft Windows Operating Systems provide a core set of basic accessibility features that are included in the system. While these features are not as robust as assistive technology products available, they do offer a free option with an array of help.
Visual Display Features
Microsoft offers several options to improve the visual display for individuals with a variety of needs, including those with low vision, or who are deaf or hard of hearing. For example, users can select High Contrast schemes that are easier to see, use a magnifier to magnify a portion of the screen, or have the system provide visual cues for sound warnings and captions for sounds made by the computer.
Keyboard and Mouse Features
The keyboard and mouse features of the Windows Operating System, allow the user more control over speed and keyboard layout. For example the StickyKeys feature allows pressing one key at a time (rather than simultaneously) for key combinations and FilterKeys ignores brief or repeated keystrokes and slow down the repeat rate. The speed of the mouse click or double click can be controlled as well as the visual appearance of the cursor.
Accessibility Wizard Feature
The Accessibility Wizard is designed to help new users quickly and easily set up groups of accessibility options that address visual, hearing and dexterity needs all in one place. The Accessibility Wizard asks questions about accessibility needs. Then, based on the answers, it configures utilities and settings for individual users. The Accessibility Wizard can be run again at any time to make changes, or changes can be made to individual settings through Control Panel.
Windows XP Accessibility Utilities
Windows XP has some advanced accessibility utilities, including a Narrator that has a text-to-speech capability to read what is displayed on the screen and an On-Screen Keyboard that displays a virtual keyboard on the computer screen that allows people to type data by using a pointing device or joystick.
Want to learn more?
Microsoft has designated six Microsoft Accessibility Resource Centers in the Great Lakes Region that can offer training and answer questions on the accessibility features. Visit www.microsoft.com/enable/centers to find the Center nearest you.
The Microsoft website also has a complete list of accessibility features and easy-to-use tutorials on the features at www.microsoft.com/enable/ or you can request a free Accessibility CD-set from Microsoft or a designated Accessibility Center.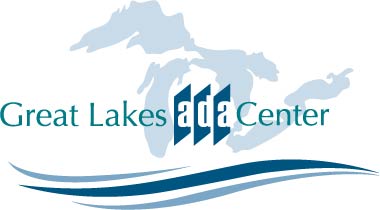 The Great Lakes ADA Center provides expert assistance via a national toll-free information line 800-949-4232 (V/TTY) or Online via Contact Us and presents customized trainings for employers, businesses, government, and individuals with disabilities regarding accessible technology and the Americans with Disabilities Act (ADA) of 1990.
Great Lakes ADA and Accessible IT Center
University of Illinois at Chicago
Department of Disability and Human Development (MC 728)
1640 West Roosevelt Road, Room 405
Chicago, IL 60608-6904