Accessible Technology Bulletin
A Free Resource From the Great Lakes ADA Center
April 2007
Volume 1 Issue 3
We offer Technical Assistance and Training on Accessible Technology
For more information, call 800-949-4232 (V/TTY)
Welcome to the DBTAC: Great Lakes ADA Center's quarterly Accessible Technology Bulletin
Technology Trainings & Events
E-Text: Production, Distribution & Management for Accessibility
This pre-conference is sponsored by Ohio State University as part of the Multiple Perspectives on Disabilities conference. It will discuss best practices in creating electronic text with "hands on" training in the creation of e-text from print material and use of e-text for individuals with disabilities. There is a registration fee. To register visit:
Adobe PDF Accessibility with Greg Pisocky
The workshop is to help instructors, web developers and administrators understand the accessibility features of Adobe PDF and Acrobat Reader. The workshops are hands-on. There is a fee for these workshops. For more information visit:
PowerPoint and Universal Design Webinar
The webinar discusses the challenges of PowerPoint and how to design one presentation that will work for delivery in different contexts and to different audiences. This event is free. For more information visit:
Focus on Technology
The Job Accommodation Network (JAN) is holding a web training on the use of technology to accommodate employees with motor, sensory, and cognitive impairments. There is a fee for this presentation. For more information or to register visit:
Charting the Cs Assistive Technology Leadership Conference
Sponsored in the Minnesota Department of Education. The conference focuses on innovative and effective strategies in assistive technology and Universal Design for Learning. Sessions will be offered for all levels of learners. There is a fee for this conference. For more information e-mail:
Update of the 508 Standards Committee
The Board is conducting a review and update of its access standards for electronic and information technology covered by Section 508 of the Rehabilitation Act. These committee meetings are open to the public by walk-in or telephone. There is no cost to attend this meeting. For more information visit:
Rehabilitation, Engineering, and Assistive Technology Society of North America(RESNA)
RESNA 2007 is an interdisciplinary gathering of individuals and companies who share a common interest in technology and disability. There is a fee for this conference. For more information visit:
National Educational Computing Conference (NECC)
NECC is an education technology conference with a strand on technology for special populations. There is a fee for this conference. For more information visit:
Universally Designed Technology in Schools
PACER Center is sponsoring a training to explain how universally designed education technology can support a broad range of abilities and learning styles. Such technology can give students with disabilities equal access to the curriculum and help schools meet the educational needs of all students. This is a free training. For more information visit:
Expanding the Accessibility of Your Browser: Part II
There are many ways to extend and improve the accessibility of your browser, whether you are an individual with a disability, a web developer wanting to test accessibility features, or simply want more control over your web viewing preferences (like larger fonts).
In general, having the latest version of your favorite browser will enhance conformance to web standards, meaning the browser will render or interpret web pages more accurately and in return, the assistive technology will read the pages more accurately as well.
Microsoft's Internet Explorer 7, Mozilla's Firefox 2, and Opera 9 all have enhanced accessibility features from previous versions.
Internet Explorer Version 7
In the latest version of Microsoft's Internet Explorer you can continue to zoom and change colors as in previous versions. Version 7 offers enhanced keyboard access to these features. Microsoft has improved the keyboard access in the default toolbar buttons, search box items, address bar, and tabs as well as the new features added to Internet Explorer 7.
Some of the new, advanced accessibility features include:
The ability to expand ALT text for images automatically. You can specify if you want to turn off or show pictures, animations, and videos.
Move system caret with focus/selection changes. (The system caret is the I-beam cursor when editing a text field).
Use smooth scrolling and enable page transitions, this will display content at a predetermined speed. The control of this feature allows screen readers to continue to read links correctly even when the next link is off the current screen and voice recognition programs may perform better as well.
Internet Explorer 7 also claims better compatibility with assistive technology products because of changes made at the architectural level.
For more information about Internet Explorer Version 7 or to download the free software visit: www.microsoft.com/windows/products/winfamily/ie/
Firefox Version 2
Firefox is a web browser developed by the Mozilla Corporation. It is an open-source product and therefore has a large community of external contributors. Firefox has a long time commitment to accessibility. Some of these features include: keyboard access support, setting user preferences to override page fonts and colors, resizing page text, and the ability to restrict or turn off scripts and Java applets.
Some of the advanced accessibility options include:
Control of the focus elements and access keys
Customized scrollbars that are easier to use
Fine tuning the web content, such as animations and blink rates.
The Firefox version 2 release contains enhancements for end users and developers. The new features, such as phishing protection and better support for Web feeds (RSS) have been made accessible. For developers, Firefox 2 has improvements for dynamic content accessibility support so that web developers can create pages that reduce the amount of tabbing required to navigate a document to minimize keystrokes for those with mobility disabilities.
Firefox also includes support for Microsoft Active Accessibility, Microsoft's accessibility API standard for Windows. This support allows Firefox to work with screen readers such as GW Micro's Window-Eyes and Freedom Scientific's JAWS.
For more information about Firefox version 2 or to download the free software go to: www.mozilla.com/en-US/firefox/
Opera 9
Opera 9 browser has many features to improve the overall Internet browsing experience, with many specific features for visual or mobility impairments.
Low vision can incorporate color blindness, contrast sensitivity, and difficulty in changing focus. Opera allows the user a very simple zoom option of graphics and text, change colors and text size, disable animation and video display, and implement personal style sheets for better control.
Opera also lets users implement sounds for several actions performed while surfing. Any sound can be installed for various movements, such as Opera start-up and exit, page loaded, transfer done, failure, instant message received, and follow link.
One of Opera's strengths is the host of keyboard shortcuts it provides making it easier to navigate without a mouse. First time users can learn more options from Opera's detailed tutorial at www.opera.com/support/tutorials/nomouse/.
Opera's mouse gestures let the user perform all the relevant and useful actions the keyboard shortcuts do without having to move the hand from the mouse. Actions such as going backward and forward in history, reloading a page, closing a page, and opening a new window can easily be done with a simple slide of the mouse.
For more information about Opera 9 or to download the free software visit: www.opera.com
Update of National Instructional Materials Access Center (NIMAC)
In December 2006, the National Instructional Materials Access Center (NIMAC) began operations. NIMAC is the national repository of publishers' electronic files of print instructional materials in the National Materials Accessibility Standard (NIMAS) format. NIMAC was established through the Individuals with Disabilities Education Improvement Act (IDEA) of 2004.
K-12 students with print disabilities must be provided accessible, alternate-format versions (braille, audio, etext, and large print) of instructional materials, such as textbooks, in a timely manner. Print disabilities includes children who are blind, have visual disabilities, or are unable to read or use standard print materials because of physical limitations, and children who have reading disabilities that result from organic dysfunction.
For more information visit: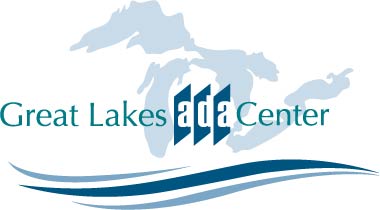 The Great Lakes ADA Center provides expert assistance via a national toll-free information line 800-949-4232 (V/TTY) or Online via Contact Us and presents customized trainings for employers, businesses, government, and individuals with disabilities regarding accessible technology and the Americans with Disabilities Act (ADA) of 1990.
Great Lakes ADA and Accessible IT Center
University of Illinois at Chicago
Department of Disability and Human Development (MC 728)
1640 West Roosevelt Road, Room 405
Chicago, IL 60608-6904