Accessible Technology Bulletin
A Free Resource From the Great Lakes ADA Center
April 2010
Volume 4 Issue 3
We offer Technical Assistance and Training on Accessible Technology
For more information, call 800-949-4232 (V/TTY)
Welcome to the Great Lakes ADA Center's quarterly Accessible Technology Bulletin
Technology Trainings & Events


(Central Standard Time)
California State University Northridge (CSUN) Annual Assistive Technology Conference
March 22 - 27, 2010
San Diego, CA
Cognitive Support Technology for People with Intellectual and Memory Disabilities
March 31, 2010
3:00 - 4:00pm CST
Online
Section 508 Refresh
April 1, 2010
1:30 - 3:30pm CST
Online
Tech Ed
April 11 - 13, 2010
Pasadena, California
Four Part Series on Web Design for Beginners and Intermediates
April 20 - May 11, 2010
Tuesdays 1pm CST
Online
Equal Access to Software and Information (EASI) will cover the steps of creating a website for web developers, accessibility will be integral component.
Charting the Cs Cross Categorical Conference
April 25-27, 2010
Alexandria, MN
Multiple Perspectives On Access, Inclusion & Disability
April 27-28, 2010
Columbus, OH
The Firefox Accessibility Extension
May 26, 2010
12- 1pm CST
Online
Web Accessibility Training
June 9 - 10, 2010
Logan, UT
Assistive Technology and Accessibility on Apple's iPhone
Apple's iPhone is all the rage. The smartphone, as it is commonly called, functions as a phone with capacity for pictures, video, e-mail, internet browsing, multimedia, text messaging, media player, gaming, and global positioning system (GPS). The latest 3GS version has improved downloading speed, video and camera resolution, and voice control.
In addition to the technical 3GS operating system improvements and other innovative design, the new iPhone has some impressive built-in accessibility features, a screen reader and high contrast resolution.
Visually impaired users can use the VoiceOver feature to speak as you type a message and read text messages, e-mails, and Web pages. VoiceOver also allows navigation of the handset's menus, buttons as you touch them, text of dialog boxes, the time of day, and the status and orientation of the display (locked or unlocked, portrait or landscape). It even gives Voice Over to detail information, such as the battery level, Wi-Fi, and cellular network signals with the option of over 20 language choices. Assignable Ringtones let you use ringtones as an audible form of Caller ID for selected contacts.
Zoom on the iPhone lets you magnify the entire screen up to 5 times the normal size and move around to view any portion of the screen close up. All the usual iPhone command gestures (i.e. pinch) work in Zoom mode. You also can reverse the display's contrast to white on black. Menus will show white text on a black background, while the Home screen will change to a white background.
More Information on iPhone Accessibility
In addition to built-in access, there are many applications available on iTunes to enhance the lives of individuals of all abilities. With a plethora of applications, over 150,000 and growing daily, one can find an application to meet their needs whether it is for communication, vision, executive function (organization skills), or entertainment etc. The majority are free downloads or cost in the range of $.99 to $4.99, with the exception being very robust programs like Proloquo2Go at a cost of $189.99. Searching for applications is much like searching the web for content. One will obtain the most inclusive results by running multiple searches using different identifier words for the desired concept. Communication, picture cue, speech recognition, handwriting, etc. will potentially bring up several additional applications that would not display under "communication" alone.
Some Assistive Technology applications worth highlighting include: Dragon Dictation, Dragon Search, NeoKate, and Proloquo2Go. Both Dragon applications are powered by Nuance's Dragon Naturally Speaking and are currently free downloads. Dragon Dictation users dictate into the iPhone or iPod Touch (with compatible headset) to have their speech converted into text. Editing is available using the touch keyboard, inserting additional recording, or rerecording sections. Converted text can then be e-mailed, sent MMS, or placed on a clip board to be pasted into any application utilizing clipboard such as notes, contacts, calendar, Facebook and Twitter. Dragon Search is a fast and accurate way to search online content in Google, Yahoo, Bing, YouTube, Twitter, iTunes and Wikipedia. Speech recognition removes spelling and texting barriers that can often impede searches. In addition, many times the business phone number can be dialed directly from touching the number listed or directions can be obtained by a single as well. Both applications reflect Nuance's level of accuracy when the microphone is placed in close proximity to the mouth (do not use speakerphone).
NeoKate is a free natural sounding text-to-speech (TTS) by NeoSpeech, Inc. In addition to Kate, other voices available on separate applications include Julie and Paul. One uses the clipboard to copy and paste text into this application to hear the text read out loud. Speed, Pitch, and Volume can be adjusted to meet the user's needs and text can be saved to an internal library for future use. NeoKate provides individuals with the ability to have their email, calendar events, web information, or text within applications that allow the use of clipboard to be read out loud without having to use the VoiceOver accessibility feature which is constantly activated by each touch of the screen until turned off.
Proloquo2Go provides a full-featured Augmentative and Alternative Communication (AAC) solution with an expandable 7,000-item default vocabulary. The current version offers North American English male, female, girl and boy voices. These voices can be replaced with British voices at no cost using the instructions provided on their website. In the realm of AAC devices, Proloquo2Go is a portable and affordable alternative to consider. Furthermore, many individuals may desire this option given it is a common device that does not depict them as "different" and it can offer many other uses in addition to communication aid when loaded with other applications.
On a final note, while iPhone offers many options, selecting appropriate applications must always take into considerations the needs, abilities, and interest of the individual user. Many applications may be intended for alternative uses; however, often can be used as Assistive Technology. Dragon applications are listed under the "business" category yet offer many benefits to those considering assistive technologies. With new applications being added daily and developers eager to obtain users reviews and recommendations, the iPhone can be thought of as the Swiss Army knife of Assistive Technology.
A special thanks to Erika J. Kluge Frake, independent assistive technology consultant, for co-authoring this article.
Digital Accessibility Expo Open to the Public
The University of Illinois at Chicago (UIC) is excited to announce the 2nd Annual Digital Accessibility Expo to be held on Monday, April 19, 2010 from 8:30 am to 4:00 pm at the UIC Forum (on the corner of Roosevelt Road and Halsted Street) in Chicago, Illinois. This event is open to the public.
The Digital Accessibility Expo focuses on improving the access to digital materials both for people with disabilities and for those without. Information and instructional materials that are developed with accessibility in mind are universally designed for everyone to access.
The national keynote speakers include Shawn Henry from the World Wide Web Consortium (W3C), Christopher Schmitt - CSS Author, and Bill Reif from the National Federation of the Blind.
An exhibit hall will demonstrate assistive technology and accessible information technology along with providing training opportunities on how digital information can be developed accessibly. The UIC Campus will demonstrate current resources available that promote accessible information technology and assistive technology.
For more information and to register visit dae.uic.edu.
Join Us for the 2009-10 Accessible Technology Series
The 2009-10 Accessible Technology On-line Webinar series schedule is available. The series is hosted and coordinated by the Great Lakes ADA Center at http://www.adagreatlakes.org and the Pacific ADA Center at http://www.pacificada.org/ on behalf of the National Network of ADA Centers at http://www.adata.org/.
The National Network of ADA Centers at http://www.adata.org/ provide a comprehensive set of services for up-to-date information, consultation, referrals, resources, and training on the Americans with Disabilities Act for businesses, employers, governmental entities, service providers and individuals with disabilities.
Next Session on May 12, 2010 1 - 2pm CST
Guest Speaker: David Dikter, Executive Director of the Assistive Technology Industry Association
The next session in the Accessible Technology Webinar Series will be on Successful Accommodations: Assistive Technology and Accessible IT Working Together
The webinar sessions are free, but registration is required. Each session is 60 minutes in length. They will be held from 1:00-2:00 p.m. Central Standard Time (CST) on dates specified. To register visit Accessible Technology Webinar page at http://www.ada-audio.org/Webinar/AccessibleTechnology/Schedule/.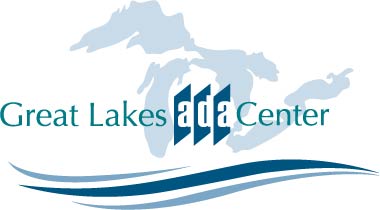 The Great Lakes ADA Center provides expert assistance via a national toll-free information line 800-949-4232 (V/TTY) or Online via Contact Us and presents customized trainings for employers, businesses, government, and individuals with disabilities regarding accessible technology and the Americans with Disabilities Act (ADA) of 1990.
Great Lakes ADA and Accessible IT Center
University of Illinois at Chicago
Department of Disability and Human Development (MC 728)
1640 West Roosevelt Road, Room 405
Chicago, IL 60608-6904