Accessible Technology Bulletin
A Free Resource From the Great Lakes ADA Center
July-Sept 2010
Volume 4 Issue 4
We offer Technical Assistance and Training on Accessible Technology
For more information, call 800-949-4232 (V/TTY)
Welcome to the DBTAC: Great Lakes ADA Center's quarterly Accessible Technology Bulletin
Technology Trainings & Events


(Central Standard Time)
Abilities Expo
July 9 - 11, 2010
Chicago, IL
Association on Higher Education and Disability(AHEAD)
July 12 - 17, 2010
Denver, CO
Emerging Technologies for Online Learning Symposium
July 20 - 23, 2010
San Jose, CA
Assistive Technology Resource Fairs
July 27, 2010
Monroe, WI
And
Aug 5, 2010
Rice Lake, WI
Annual Conference on Distance Teaching and Learning
August 4 - 6, 2010
Madison, WI
The Annual Conference on Distance Teaching & Learning is recognized internationally for the quality and integrity of its program. Each year the conference provides an exchange of current resources, research, and best practices from around the world that are relevant to the design and delivery of distance education/training. There is a strand on accessible distance learning.
A General Introduction to Accessible Instructional Materials (AIM)
August 10, 2010
2 - 3pm CST
The iPod touch and iPad as Assistive Technology
August 24, 2010
1:30 pm - 2:30 pm CST
Online
Aligning Disability with the Bottom Line: Talent, Market Share, and Supplier Diversity
September 19 - 22, 2010
Chicago, IL
Web Accessibility Training
Sept 27 - Sept 29, 2010
Logan, UT
Intensive Web Design Workshop
Sept 27 - Oct 1, 2010
Champaign, IL
Accessible PDF Forms
Creating interactive, fillable forms for online distribution is very useful for many companies and organizations. Using Adobe Acrobat Professional, you can make PDFs with interactive form fields accessible to individuals with a varieties of disabilities including vision and mobility impairments. The exact accessibility features will vary depending on the version of Acrobat Professional you are using with the latest version offering the most accessibility features.
A PDF form created with Acrobat can contain many types of interactive fields. For example, a Text fieldM, lets the user type in text, such as name, address, or phone number. Some other common PDF fields in an interactive form are:
Check box - Presents yes-or-no choices for individual items. If the form contains multiple check boxes, the user can typically select as many or few of these as needed.
Radio button - Presents a group of choices from which the user can select only one item. All radio buttons with the same name work together as a group.
List box - Displays a list of options the user can select. There is a form field property that enables the user to Shift-click or Control-click to select multiple items on the list.
The Properties Dialog determines how each form field behaves. The Properties Settings can apply formatting, determine how the form field information relates to other form fields, impose limitations on what the user can enter into field, or trigger custom scripts.
The specific properties you set depend on the form field type, such as Textbox or Radio Button. The properties for each type of form field are selected for a dialog with a series of tabs. When you change a property, it is applied as soon as you select another property or press Enter. All the form field types have a General tab, Appearance tab, and an Actions tab. Other tabs appear only in specific types of form fields. The Options tab appears for most form field types but the options available are unique to each type of form field.
For Accessibility, the Tooltip is important. The Tooltip field text will be read by a screen reader and provide the user with information about the field or give instructions on inputting the information in the field. Without the Tooltip, it may not be clear to someone listening to the form without the tooltip, what information the interactive field is requesting.
The Tooltip text can be entered from General tab:
Forms > Add or Edit Fields and make sure that the Select Object tool is selected.
Double-click a selected form field to open the Properties window.
In the General tab, type a description into the tool tip box.
Figure 1: Screenshot showing how to add tool tip
Determining and setting an intuitive tab order of the form fields will also increase accessibility by allowing a logical, keyboard access to the fields.
If a PDF document doesn't have a specified tab order, the default tabbing order is based on the document structure unless the user has deselected the Tab Order option in the Accessibility preferences. To assist in determining tab order, you can select "Show Tab Numbers" from the Tab Order button of the Fields panel
You can change the tabbing order after you create the fields by doing the following:
If you are in Forms Editing mode, you can order the tabs by document structure (default), row, or column.
You can also choose the order manually by dragging and dropping fields in the Fields panel.
If you are not in Forms Editing mode, you can change the page properties to order the tabs by row or column. However, you can't customize the tab order manually.
There are three ways to examine and create the labels for accessible form fields.
Acrobat Form Wizard
Form editing mode
Manually create form fields
When you convert a document to a PDF form, Acrobat can detect the form fields in the document. In many instances, Acrobat will use the form field labels to name the field and provide a Tooltip. However, the automatic detection of form fields does require some human verification to be sure that Acrobat accurately detected the fields and labeled them appropriately.
The Form Wizard will create interactive forms from an existing documents, such as a Microsoft Word or Excel document. Choose Forms > Start Form Wizard. From the "Create or Edit Form" dialog select > Convert an existing electronic document. This action places the document in Form Editing Mode. The Form Wizard completes its analysis of the document, adds any form fields it may detect and places the PDF form in Forms Editing Mode where you can edit the automatically created fields or add additional form fields.
Also, Form Editing mode can be used directly and bypass the Form Wizard by selecting Forms > Add Or Edit Fields from the Acrobat main menu. You can also add form fields manually by selecting No to automatic detection of Form fields.
There are many benefits to interactive PDF forms and guidelines available to make sure thos forms are accessible to individuals with disabilities.
For more in-depth information on accessible Adobe Acrobat forms, Adobe has created a guide with techniques on creating accessible forms.
LiveCylce Designer is included in Acrobat 9 Pro and has additional features on accessible form creation. Adobe has also created a guide for accessibility best practices in the LiveCyle product.
Join Us for the 2009-10 Accessible Technology Series
The 2009-10 Accessible Technology On-line Webinar series schedule is available. The series is hosted and coordinated by the DBTAC - Great Lakes ADA Center at http://www.adagreatlakes.org and the DBTAC-Pacific ADA Center at http://www.pacificada.org/ on behalf of the ADA National Network at http://www.adata.org/.
The ADA National Network at http://www.adata.org/ provide a comprehensive set of services for up-to-date information, consultation, referrals, resources, and training on the Americans with Disabilities Act for businesses, employers, governmental entities, service providers and individuals with disabilities.
The webinar sessions are free, but registration is required. Each session is 60 minutes in length. They will be held from 1:00-2:00 p.m. Central Standard Time (CST) on dates specified. To register visit Accessible Technology Webinar page at http://www.ada-audio.org/Webinar/AccessibleTechnology/Schedule/.
ADA 20th Anniversary
July 26, 2010 marks the 20th anniversary of the signing of the Americans with Disabilities Act (ADA). The ADA gives civil rights protections to individuals with disabilities similar to those provided to individuals on the basis of race, color, sex, national origin, age, and religion. It guarantees equal opportunity for individuals with disabilities to access businesses, employment, transportation, telecommunications, as well as State and local government programs and services.
The ADA Anniversary Information and Resources has been designed to capture our collective achievements and highlight useful ADA information and materials that can be used to enhance your ADA anniversary events. We encourage duplication of these materials for print and distribution purposes.
The information and resources include the following materials:
There are ADA Anniversary celebrations and campaigns to mark this history anniversary, find out how to be a part of the action at adagreatlakes.org/Resources/Anniversary/20thAnniversary/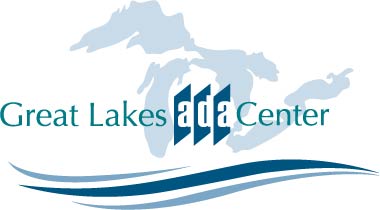 The Great Lakes ADA Center provides expert assistance via a national toll-free information line 800-949-4232 (V/TTY) or Online via Contact Us and presents customized trainings for employers, businesses, government, and individuals with disabilities regarding accessible technology and the Americans with Disabilities Act (ADA) of 1990.
Great Lakes ADA and Accessible IT Center
University of Illinois at Chicago
Department of Disability and Human Development (MC 728)
1640 West Roosevelt Road, Room 405
Chicago, IL 60608-6904