Accessible Technology Bulletin
A Free Resource From the Great Lakes ADA Center
October-December 2010
Volume 5 Issue 1
We offer Technical Assistance and Training on Accessible Technology
For more information, call 800-949-4232 (V/TTY)
Welcome to the DBTAC: Great Lakes ADA Center's quarterly Accessible Technology Bulletin
Technology Trainings & Events


(Central Standard Time)
US Access Board
508 Sessions
September 30, 2010
Chicago, IL
Accessibility Summit
September 30, 2010
Online
Going Beyond Accessible Web pages to Include Audio and Video
October 6, 2010 1pm CST
Online
HighEdWeb Conference
October 10 - 16, 2010
Cincinnati, OH
EDUCAUSE Conference
October 12 - 15, 2010
Anaheim, CA
Closing the Gap Conference
October 21 - 23, 2010
Bloomington, MN
Assistive Technology Industry Association Conference
October 27 -30, 2010
Shuamburg, IL
Designing Accessible Forms Course
Oct 26 - Nov 23, 2010
Online
Accessible Widgets Using
Web 2.0
November 3, 2010 1pm CST
Online
Accessing High Ground: Accessible Media, Web, and Technology Conference
November 15 -20, 2010
Boulder, CO
The annual Accessing Higher Ground conference focuses on the implementation and benefits of Assistive Technology in the university and college setting for people with sensory, physical and learning disabilities. Other topics include legal and policy issues, including ADA and 508 compliance, and making campus media and information resources - including Web pages and library resources - accessible
National Center on Technology Innovation Annual Conference
November 15 - 17, 2010
Washington, DC.
Assistive Technology Across the Lifespan Conference
December 2 - 3, 2010
Stevens Point, WI
2010-11 Accessible Technology Webinar Series
The new 2010-11 Accessible Technology Webinar series schedule is now available. The series is hosted and coordinated by the Great Lakes ADA Center and the DBTAC-Pacific ADA Center on behalf of the ADA National Network.
The ADA National Network provides comprehensive services for up-to-date information, consultation, referrals, resources, and training on the Americans with Disabilities Act for businesses, employers, governmental entities, service providers and individuals with disabilities.
Next Session: Nov. 9, 2010 1:00 - 2:30pm CST
How To Conduct A Workplace Computer Accessibility Assessment with Speaker Paul Schwartz, Paul Schwartz, MSIE, ATP, RET, CPE of University of Wisconsin Stout
Choosing the appropriate accommodations for an employee with a disability can be a daunting task. The Internet is flooded with products to accommodate limitations when using a computer. But where to begin? How do you know you are getting the right product or setup for your employee? This presentation will provide an overview of the process, ergonomics and assistive technology products that can help you make the right choices in providing accommodations for computer tasks. Case studies will be used to illustrate the methodology.
The series is free, but participants must pre-register at www.ada-audio.org.
Future sessions:
January 11, 2011 - Social Networking to Your Advantage with speaker Tom Wlodkowski, Director of Accessibility with AOL
March 8, 2011 - Quick Checks For PDF Accessibility with speaker Christy Blew, IT Accessibility Specialist at the University of Illinois at Urbana-Champaign
May 10, 2011 - How A Firm Can Differentiated Itself By Hiring Technologist With Disabilities with speaker Debra Ruh, Founder and CEO of TecAccess
July 12, 2011 - How To Create Accessible Video with speaker Terrill Thompson, Technology Accessibility Specialist with the University of Washington
September 13, 2011 - Introduction to Mobile Computing, speaker TBD.
Accessible Twitter - Vote by October 12, 2010
Twitter is the latest tool in the expanding contributions to social networking. Twitter is a website, owned and operated by Twitter Inc., that offers a social networking and microblogging service. Twitter users can send and read messages called tweets. Tweets are text-based posts of up to 140 characters displayed on a user's profile page. Tweets are publicly visible by default, however senders can restrict message delivery to their friends list. Users may subscribe to other author tweets, this is known as following and subscribers are known as followers.
Accessible Twitter makes this web phenomenon accessible to users with disabilities and to those with limited technology experience. Accessible Twitter makes it easy to use the popular social micro-blogging web service. Accessible Twitter includes features like URL-shortening, trends, saved searches, popular links, and partial support for lists.
Users with disabilities typically have significant problems accessing many web sites and web services, including Twitter. Accessible Twitter ensures that all links are keyboard accessible, provides simple, consistent layout and navigation, and structures each page with helpful headings. Additional audio cues indicate when Twitter's 140-character limit is almost reached when writing a tweet. Accessible Twitter works with or without JavaScript and is compatible with all major Internet browsers. Accessible Twitter is used by those with and without disabilities.
Some additional accessibility features are:
DM, Favorite, Reply, Re-tweet, and Delete links are all visible by default.
Headings and page titles are implemented for optimal accessibility. This includes an H3 heading (for author screen name) added to tweets to assist with screen reader users.
Ajax actions are concluded with an alert that notifies the user of the result of the action.
Large default text size and high color contrast.
Text resizes many levels without breaking.
Access keys (keyboard shortcuts) to main menu items.
Looks great in all screen resolutions from 800-pixel width 1600 and higher.
Forms and data tables are marked up for optimal accessibility.
Code is semantic, light, and adheres to best practices in Web Standards.
If a tweet is in response to another (and marked as such in the data), a clearer link is provided to the that tweet (not hidden). There's also a more obvious link to the "permanent page" for the tweet.
A clearer link is provided for the "permanent" link for a tweet; the page containing only a single tweet.
Definitions of abbreviations are provided to certain acronyms in tweets such as IMHO (in my humble opinion).
ARIA is implemented including document landmark roles, which assist in site navigation, and live region for the dynamic character counter.,
Accessible Twitter's efforts to extend Twitter to the disability community have not gone unnoticed. Accessible Twitter is the winner of the "2009 Access IT @web2.0 Award". Accessible Twitter is currently nominated for the "2010 Best of the Web Awards for API Use" by .net Magazine. Anyone can vote by October 12th to decide the finalists in all categories. If you try and like Accessible Twitter, vote for them at http://www.thenetawards.com/
US Access Board Hosts Listening Session
Now is the time to share your thoughts about Section 508 of the Rehabilitation Act, which is the legislation requiring Federal agencies to make their electronic and information technology accessible to people with disabilities.
On September 30, 2010 from 1:30 to 4:30 the Access Board, joined by members of the Chief Information Officers Council, will hold the first in a series of "listening sessions" on improving access to information technology in the Federal sector and implementation of Section 508 of the Rehabilitation Act.
Some of the questions that will be considered are:
What can technology do to improve access and opportunities for people with disabilities?
What can the Federal government do to use technology better or in new ways?
What can the Federal government do to make technology more accessible?
What emerging technologies are being used by the Federal government that you are left out of?
What technologies should the Federal government use that would enhance your interactions with government agencies?
What are state and local governments doing in terms of technology accessibility that the Federal government should follow?
What can the Federal government do to influence technology accessibility?
Feedback from the listening session will be used by, and shared across, agencies to improve accessibility and usability. This session is being held in response to a recently released memo

at http://www.whitehouse.gov/sites/default/files/omb/assets/procurement_memo/improving_accessibility_gov_info_07192010.pdf

from Vivek Kundra, Federal Chief Information Officer at the Office of Management and Budget (OMB), which lays out a detailed plan for improving the accessibility of government information.
The session will be held at Courtyard by Marriott Magnificent Mile in Chicago, Illinois. If you would like to register to speak at either of these meetings, or if you require additional information, contact johnson@access-board.gov or by phone at (202) 272-0041 or (800) 993-2822 (TTY).
The webinar sessions are free, but registration is required. Each session is 60 minutes in length. They will be held from 1:00-2:00 p.m. Central Standard Time (CST) on dates specified. To register visit Accessible Technology Webinar page at http://www.ada-audio.org/Webinar/AccessibleTechnology/Schedule/.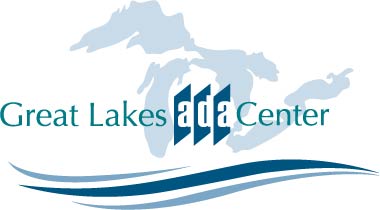 The Great Lakes ADA Center provides expert assistance via a national toll-free information line 800-949-4232 (V/TTY) or Online via Contact Us and presents customized trainings for employers, businesses, government, and individuals with disabilities regarding accessible technology and the Americans with Disabilities Act (ADA) of 1990.
Great Lakes ADA and Accessible IT Center
University of Illinois at Chicago
Department of Disability and Human Development (MC 728)
1640 West Roosevelt Road, Room 405
Chicago, IL 60608-6904