April - June 2011
Volume 5 Issue 3
Welcome to the DBTAC: Great Lakes ADA Center's quarterly Accessible Technology Bulletin
Technology Trainings & Events


(Central Standard Time)
Four Part Series on Creating Accessible Forms
April 5,12,19, 26 2011 Tuesdays
1pm CST
Online
Charting the Cs Cross Categorical Conference
April 10-12, 2011
Alexandria, MN
You Can't Buy Love: But You Can Buy Accessibility
April 12, 2011
2:30- 4:00pm CST
Online
Multiple Perspectives On Access, Inclusion & Disability
May 4 - 5 , 2011
Columbus, OH
Creating Accessible Web Forms Course
May 10 - June 2, 2011
Online
Web Accessibility Training
May 25 - 26, 2011
Logan, UT
Rehabilitation Engineering and Assistive Technology Society of North America (RESNA) Annual Conference
June 5 - 8, 2011
Toronto, Canada
Attend the 2011 Digital Accessibility Expo
The University of Illinois at Chicago (UIC) is excited to announce the 3nd Annual Digital Accessibility Expo to be held on Monday, April 11, 2011 from 8:45 am to 4:15 pm at the UIC Forum (on the corner of Roosevelt Road and Halsted Street) in Chicago, Illinois. This event is open to the public.
The Digital Accessibility Expo focuses on improving the access to digital materials both for people with disabilities and for those without. Information and instructional materials that are developed with accessibility in mind are universally designed for everyone to access.
The national keynote speakers include Daniel Hubble from Microsoft and Daniel Goldstein with the National Federation of the Blind.
An exhibit hall will demonstrate assistive technology and accessible information technology along with providing training opportunities on how digital information can be developed accessibly. The UIC Campus will demonstrate current resources available that promote accessible information technology and assistive technology. For more information and to register visit dae.uic.edu
Are Google Apps Accessible?
Many educational institutions utilize Google Apps for Education. Google Apps for Education -offers schools a hosted solution for their email, calendar, and chat. Additionally, you can complement the core suite with access to other Google applications and integrate with the existing IT system. All for free, which is very appealing for educational institutions in this time of shrinking budgets!
However, many individuals with disabilities contend that Google Apps is not accessible and contains barriers for people using various assistive technologies. In fact, The National Federation for the Blind on March requested that the Department of Justice investigate Google for what it considers to be the discriminatory nature of its Google Apps product, after New York University and Northwestern University adopted Google Apps for Education as their main e-mail system.
In response to accessibility concerns Google has stated a commitment to continue addressing accessibility. Google has features such as captions on YouTube, WalkyTalky, and Intersection (for Google Map accessibility), with accessibility information for users, developers, and publishers. Google Accessibility webpage was recently updated for easier use and commenting.
The Department of Education, Office of Civil Rights has clarified that institutions of higher education need to make their electronic information systems accessible, stating "Requiring use of an emerging technology in a classroom environment when the technology is inaccessible to an entire population of individuals with disabilities - individuals with visual disabilities - is discrimination prohibited by the Americans with Disabilities Act of 1990 (ADA) and Section 504 of the Rehabilitation Act of 1973 (Section 504) unless those individuals are provided accommodations or modifications that permit them to receive all the educational benefits provided by the technology in an equally effective and equally integrated manner." (Dear Colleague Letter June 29, 2010) In addition, state laws on accessibility may apply to Institutions of Higher Education. For example in Illinois, the Illinois Information Technology Accessibility Act (IITAA) requires Illinois universities to ensure that their web sites and information technologies are accessible to people with disabilities.
Join Us for the Next Accessible Technology Webinar on May 10, 2011
The Accessible Technology Webinar series is hosted and coordinated by the DBTAC - Great Lakes ADA Center and the DBTAC-Pacific ADA Center on behalf of the ADA National Network.
The ADA National Network provides comprehensive services for up-to-date information, consultation, referrals, resources, and training on the Americans with Disabilities Act for businesses, employers, governmental entities, service providers and individuals with disabilities.
Next Session: May 10, 2011 1:00 - 2:30pm CST
How A Firm Can Differentiated Itself By Hiring Technologist With Disabilities with speaker Debra Ruh, Founder and CEO of TechAccess

Debra RuhHiring people with disabilities should be your company's newest strategy to differentiate in a competitive global market. This session will discuss some HR functions and how these processes need to be made accessible and usable. It will also discuss telework, social media and other strategies to support efforts and include employees globally.
The series is free, but participants must pre-register at www.ada-audio.org.
Future sessions:
July 12, 2011 - How To Create Accessible Video with speaker Terrill Thompson, Technology Accessibility Specialist with the University of Washington
September 13, 2011 - Introduction to Mobile Computing, speaker TBD.
QIAT-VR Wiki and Survey Available
The Quality Indicators in Assistive Technology in Vocational Rehabilitation is a project we are conducting in collaboration with the Southwest ADA Center. For several years, this national collaborative has worked with organizations, services providers, family members, and other professionals to develop indicators for quality service of assistive technology and self-assessment matrices for service delivery programs.
The QIAT-VR project is based on the Quality Indicators for Assistive Technology in K-12 settings which began over 10 years ago as a grass roots collaborative. The K-12 indicators were developed at working summits, national conferences, and other events. They have been used by K-12 IEP teams to improve their efforts, by districts and states to define quality, and by researchers to examine efforts to meet Individual with Disabilities Education Act (IDEA) requirements for assistive technology. The indicators have given schools a uniform tool with which to evaluate and improve the various aspects of the assistive technology services they were providing. Schools self-evaluate using the matrix that accompanies the indicators and have a research-based rationale to develop effective and efficient plans to improve.
In Vocational Rehabilitation, the model of assistive technology delivery was analyzed to identify assistive technology practices that that result in the effective delivery of assistive technology to assist individuals with disabilities to achieve employment. Through an open-source and collaborative model, the project developed the following indicator areas, each with 5 - 7 specific indicators and supporting matrices for organizations to self-evaluate their and improved their process assistive technology service delivery.
The indicator areas for QIAT-VR are as follows:
Consideration
Assessment
Including Assistive Technology in the Service Provision Plan
Implementation
Evaluation of Effectiveness
Assistive Technology Transition
Administrative Support
Development and Training in Assistive Technology
Consumer Self-Awareness and Self-Advocacy
CONSIDERATION AREA
Indicator
1. Assistive technology devices and services are considered for all consumers, regardless of type or severity of disability.
Least Promising >>> Variations >>> Most Promising
1
2
3
4
5
AT is not considered for consumers with disabilities.
AT is considered only for VR consumers only when identified by the consumer.
AT is considered for consumers with visible or obvious disabilities only
AT are considered most of the time for all consumers, regardless of the type or severity of disability
AT is always considered for all consumers, regardless of the type or severity of disability
Get Involved!
We would like to invite you to participate and contribute to this effort. Please post comments and suggestions to the indicators and matrices at the wiki http://qiatvr.pbworks.com. In order to make comments, you need to create a free PBworks account or share your thoughts on our feedback survey, which is available without a PBworks account.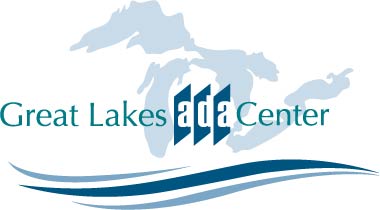 The Great Lakes ADA Center provides expert assistance via a national toll-free information line 800-949-4232 (V/TTY) or Online via Contact Us and presents customized trainings for employers, businesses, government, and individuals with disabilities regarding accessible technology and the Americans with Disabilities Act (ADA) of 1990.
Great Lakes ADA and Accessible IT Center
University of Illinois at Chicago
Department of Disability and Human Development (MC 728)
1640 West Roosevelt Road, Room 405
Chicago, IL 60608-6904