July - September 2011
Volume 5 Issue 4
Welcome to the DBTAC: Great Lakes ADA Center's quarterly Accessible Technology Bulletin
Technology Trainings & Events


(Central Standard Time)
Abilities Expo
July 8 - 10, 2011
Chicago, IL
Association on Higher Education and Disability(AHEAD)
July 11 - 16, 2011
Denver, CO
Emerging Technologies for Online Learning Symposium
July 11 - 13, 2011
San Jose, CA
Annual Conference on Distance Teaching and Learning
August 3 - 5, 2011
Madison, WI
Managing the Assistive Technology Process: The Nontech Guide for Disability Service Providers
August 23, 2011
1 PM Central
Online
Web Accessibility Training
October 12 - 13, 2011
Logan, UT
Aligning Disability with the Bottom Line: Talent, Market Share, and Supplier Diversity
October 19 - 22, 2011
Louisville, KY
Join Us for the Next Accessible Technology Webinar on July 12, 2011
The Accessible Technology Webinar series is hosted and coordinated by the Great Lakes ADA Center at http://www.adagreatlakes.org/ and the DBTAC-Pacific ADA Center at http://www.pacificada.org/ on behalf of the ADA National Network at http://www.adata.org/
The ADA National Network at http://www.adata.org/ provides comprehensive services for up-to-date information, consultation, referrals, resources, and training on the Americans with Disabilities Act for businesses, employers, governmental entities, service providers and individuals with disabilities.
Next Session: July 12, 2011 1:00 - 2:30pm CST
How to Create Accessible Video with speaker Terrill Thompson, Accessibility Specialist University of Washington

Terrill Thompson
The series is free, but participants must pre-register at http://www.ada-audio.org/Webinar/AccessibleTechnology/.
Future sessions:
September 13, 2011 - Introduction to Mobile Computing, with Speaker Jonathan Spalter, Chairman of Mobile Future
Guidelines for accessible forms
Websites today incorporate user feedback and interaction and therefore accessible forms have become that much more important. Many sites have already embraced making their forms accessible, and done a pretty good job of it, but something as small as an inappropriately named label, can create a barrier for people with disabilities attempting to use the website.
Labels should always be used and include the for attribute (e.g. < label for="name" >). The value used should match the id of the input field that the label is being used for:

< label for="name" > Name < /label > < input type="text" id="name" />
Labels for inputs, select dropdowns and text areas should precede the input, though labels for radio buttons and checkboxes should follow the input, as follows:

< input type="checkbox" id="terms" > < label for="terms" >Accept our terms & conditions< /label >
In addition, related form elements should be grouped together inside
< fieldset > < /fieldset > tags and have a < legend > just inside them to describe what the fieldset contains.
It's useful to use color to highlight the current field so users can easily see their current location within the form. If a field is required, it's good practice to highlight that field with an icon. The most recognizable symbol, the asterisk (*), should be clearly placed before the required field.
It is a good idea to avoid reset buttons because of users inadvertently clicking on them, and losing all the data they just input - usually frustrating them enough that they'll simply leave your site or not complete your form. This is especially important in the case of bigger forms, though can be equally frustrating if users are in a rush to fill out the form.
For more information on creating accessible forms, check out these resources:
The Department of Education Clarifies Obligation Regarding Accessible Technology
The U.S. Department of Education's Office for Civil Rights recently issued a Dear Colleague letter to schools on their legal obligation to provide equal opportunity to enjoy the benefits of technology.
As the use of emerging technologies in the classroom increases, schools at all levels must ensure equal access to the educational benefits and opportunities afforded by the technology and equal treatment in the use of the technology for all students, including students with disabilities. The letter highlights what schools need to know to ensure that students with disabilities have access to information and resources provided through technology.
After the college letter was issued, many questions arose; therefore the U.S. Department of Education issued a "Frequently The FAQ is a follow-up to a Dear Colleague Letter (DCL) regarding the use of electronic book readers and other emerging technologies in educational settings. The legal requirements that are articulated in the June 2010 DCL, which are reiterated in the attached FAQ, also apply to elementary and secondary schools.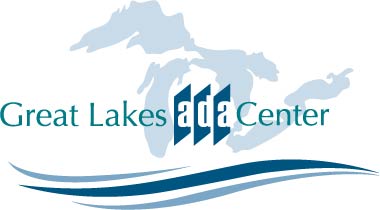 The Great Lakes ADA Center provides expert assistance via a national toll-free information line 800-949-4232 (V/TTY) or Online via Contact Us and presents customized trainings for employers, businesses, government, and individuals with disabilities regarding accessible technology and the Americans with Disabilities Act (ADA) of 1990.
Great Lakes ADA and Accessible IT Center
University of Illinois at Chicago
Department of Disability and Human Development (MC 728)
1640 West Roosevelt Road, Room 405
Chicago, IL 60608-6904