January - March 2012
Volume 6 Issue 2
Welcome to the Great Lakes ADA Center's quarterly Accessible Technology Bulletin
Technology Trainings & Events


(Central Standard Time)
Assistive Technology Industry Association Conference
January 26 - 28, 2012
Orlando, FL
Exploring Cascading Style Sheets as an Accessibility Option
Tuesday Jan 31 - Feb 21
Online
Wisconsin Statewide Transition Conference
February 9 - 10, 2012
Wisconsin Dells, WI
Ohio Education Technology Conference
Feb 13 - 15, 2012
Columbus, OH
LDA International Conference
February 22 - 25, 2012
Chicago, IL
International Technology & Persons with Disabilities Conference
February 27 - March 3, 2012
San Diego, CA
EDUCAUSE Midwest Regional Conference
March 26 - 29, 2019
Chicago, IL
Web Accessibility Training
March 28 - 29, 2012
Logan, UT
Free Webinar Series for Illinois Faculty
The Great Lakes ADA Center is pleased to sponsor a new webinar series hosted by the Web Accessibility Consortium of the Illinois Board of Higher Education (IBHE). The Web Accessibility Consortium is a network of Information Technology (IT) professionals, which support the implementation of the Illinois Information Technology Accessibility Act (IITAA) in higher education institutions throughout the state of Illinois.
Next Session: Thursday January 19, 2012 2:00 - 3:00pm CST
Microsoft 2010 Office Accessibility with Speaker Christy Blew, University of Illinois Urbana-Champaign
Christy Blew
Save time and prepare a more quality document as you learn some "how to's" and what to avoid in Word 2010. Word Best Practices helps to utilize the software efficiently and maximize the output of documents whether in a native format or converted to other formats such as PDF or HTML. Session includes learning how to use the styles ribbon, creating text descriptions, pitfalls to avoid, and more.
Christy Blew is an IT Accessibility Specialist at the University of Illinois at Urbana-Champaign. She has over 15 years of experience in developing and using internet technologies to deliver information to people and has been working with IT accessibility education for over 8 years. Her trainings include accessibility issues with Word, PowerPoint, and PDF. Christy currently holds a Masters in Technology and a Certification in Computer Science from Eastern Illinois University
The series is free, but participants must pre-register at http://www.adaconferences.org/IBHE/
Future sessions:
PDF Accessibility with Christy Blew University of Illinois Urbana-Champaign on March 15, 2012
SoftChalk Lessonbuilder with Chris Dobson, Harper College on April 19, 2012
Adobe Captivate with Giovanni Duarte, DeVry University May 17, 2012
Membership on this committee is open to anyone interested in supporting the accessibility of Web-based resources in higher education in Illinois to people with disabilities. To participate in the IBHE consortium, please visit: http://ibhe.cita.illinois.edu/
Web Accessibility Begins with Design
Information in the image is as follows
Web Accessibility for Designers
Plan Heading Structure Early
Ensure all content and design fits into a For more Information Visit logical heading structure at http://webaim.org/techniques/semanticstructure/
Consider reading order
The reading order should be the same as the visual order.
Provide Good Contrast
Be especially careful with light shades of gray, orange, and yellow. Check your contrast levels with our color contrast checker.
Use True Text Whenever Possible
True text enlarges better, loads faster, and is easier to translate. Use CSS to add visual style.
Watch the Use of CAPS
All caps can be difficult to read and can be read incorrectly by screen readers.
Use Adequate Font Size
Font size can vary based on the font chosen, but 10 point is usually a minimum.
Remember Line Length
Don't make it too long or too short.
Make Sure Links are Recognizable
Differentiate links in the body of the page with underlines or something other than color alone.
Design Link Focus Indicators
Ensure keyboard users can visually identify a focused link. Use the standard dotted line or other non-color designators.
Design a "Skip to Main Content" Link
A link for keyboard users to skip navigation should be at the top of the page. It can be hidden, but should be visible when it receives keyboard focus.
Ensure Link Text Makes Sense on Its Own
Avoid "Click Here" in link text. Other ambiguous links, such as "More" or "Continue", can also be confusing.
Use Animation, Video, and Audio Carefully
If used, provide a play/pause button. Avoid flashing or strobing content: It can cause seizures.
Don't Rely on Color Alone
Because users often can't distinguish or may override page colors, color cannot be the only way information is conveyed.
Design Accessible Form Controls
Ensure form controls have descriptive labels and instructions. Pay close attention to form validation errors and recovery mechanisms.
Content in the current page continues below
There are many reasons to create an accessible website, the return on investment can include extended market reach, enhanced usability for everyone, cost saving on web site maintenance; not to mention reducing legal liability for not complying with accessible technology laws. Unfortunately, many organizations wait until the site is nearly developed to think about accessibility. An accessibility review is helpful in identifying errors, but this leads to issues being reported to developers late in the project, at a time when changes cost more and may not integrate well into the current development plan.
Optimal accessibility should start much earlier, as part of the visual design process and continue to be integrated into all stages of a project. For example, here are accessibility steps that should be incorporated into the development:
Design. Webaim, a nonprofit that promotes web accessibility, has created a great infographic to help visual designers think about accessibility in the visual design process. It helps designers consider layout, font, graphics and animation from an accessibility standpoint and thereby creating a seamlessly accessible visual design.
Technical Developers. There are free automated tools to help web developers create accessible mark up for the application and easily check for accessibility. The W3C has a comprehensive list of such tools: W3C tools list. One unique tool is the Ruby Accessibility Analysis Kit which places an emphasis on finding inaccessible code (machine verifiable) and allows the developer to focus on accessibility issues that need manual assessment. More information is available at RaaKt wiki.
Content producers. In many organizations the content producers or copywriters that create text are left out of accessibility training and checking, but they are a very important aspect of creating an accessible website. Content producers need both knowledge about accessibility, especially if they are posting documents or video and need to check for readability issues and other language aspects.
Testers. Finally, any website should get user feedback, formal usability testing or informal gathering of opinions. Persons with disabilities who competently use the web and their assistive technology should be sought out. There are companies that specialize in testing websites for accessibility with people with disabilities or you can ask your customers, employees, or wider community for assistance.
Taking Accessibility Mainstream Forum
The Accessibility Interoperability Alliance (AIA), which is the technical and engineering division of the Assistive Technology Industry Association (ATIA) is sponsoring a forum intended to bring focus to the needs of the development community in achieving accessible technology.
As evidenced by the results of the Developer's Survey on Accessibility conducted in late 2010, respondents highlighted an industry and profession in the midst of a fragmented landscape of partial solutions and serious obstacles to the attainment of more uniform, universally accessible technology. These obstacles range from basic challenges, such as a lack of developer skills, little or no coverage in engineering courseware, and lack of testing/development tools, to more subtle issues that include a poorly understood business case and lack of a cohesive professional identity for accessibility developers.
The objective of this Forum is to allow for sharing of insights and best practices, discussion of critical issues facing the industry, and advancement of the concept of an International Accessibility Professional Society with an infrastructure to support it. The goal is for those within the business and development communities to be the driving force for change in the accessible technology environment.
The forum is Tuesday, Feb 28, 2012 at Manchester Grand Hyatt Hotel, San Diego, CA in conjunction with the California State University Northridge Assistive Technology Conference.
For more information visit http://www.atia.org/i4a/pages/index.cfm?pageid=4161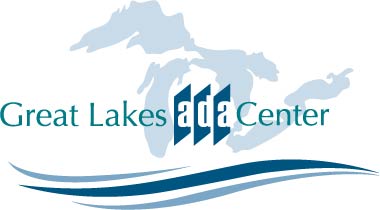 The Great Lakes ADA Center provides expert assistance via a national toll-free information line 800-949-4232 (V/TTY) or Online via Contact Us and presents customized trainings for employers, businesses, government, and individuals with disabilities regarding accessible technology and the Americans with Disabilities Act (ADA) of 1990.
Great Lakes ADA and Accessible IT Center
University of Illinois at Chicago
Department of Disability and Human Development (MC 728)
1640 West Roosevelt Road, Room 405
Chicago, IL 60608-6904