April - June 2012
Volume 6 Issue 3
Welcome to the Great Lakes ADA Center's quarterly Accessible Technology Bulletin
Technology Trainings & Events


(Central Standard Time)
Four Part Series: Better eBooks with DAISYPUB
April 10 - May 8, 2012 Tuesdays 1pm CST
Online
Improving the Accessibility Game Plan
April 10, 2012 1PM CST
Online
Charting the Cs Cross Categorical Conference
April 22-24, 2012
Alexandria, MN
Multiple Perspectives On Access, Inclusion & Disability
April 24 - 25 , 2012
Columbus, OH
Global Public Inclusive Infrastructure Webinar
May 8, 2012 1PM CST
Online
Web Accessibility Training
May 23 - 24, 2012
Logan, UT
Rehabilitation Engineering and Assistive Technology Society of North America (RESNA) Annual Conference
June 28 - July 3, 2012
Baltimore, MD
Join Us for the UIC Digital Accessibility Expo
The Great Lakes ADA Center is a sponsor for the University of Illinois Chicago's Digital Accessibility Expo. The Digital Accessibility Expo is a fantastic way to learn more about the critical accessibility issues facing our community. The Expo focuses on improving the access to digital materials both for people with disabilities and for those without. Information and instructional materials that are developed with accessibility in mind are universally designed for everyone to access.
The Expo will be held Friday April 20, 2012 8:45 am - 4:15 pm at the UIC Forum 725 W. Roosevelt Rd. Chicago, IL 60608. (on the corner of Roosevelt Road and Halsted Street). The Digital Accessibility Expo is open to everyone! Registration covers the cost of lunch, all exhibits, and presentations. General registration is $50. Registration for students with valid ID is $15. Registration for UIC Faculty/Staff is $25. For more information and to register visit dae.uic.edu.
Keynote Speaker from Google
This year's keynote speaker is T.V. Raman, Computer Scientist working for Google. T.V. is an accomplished Computer Scientist with over 17 years of leadership experience in advanced technology development. During this time, he has authored 3 books and received over 50 patents; his work on auditory interfaces has been profiled in mainstream publications including the New York Times and Scientific American.
He presently leads accessibility for Google Android and Google Chrome; he has leading edge expertise in developing auditory interfaces for mobile devices and Web applications. Earlier, he led the definition of numerous W3C standards including XForms and Aural CSS.
Exhibit Hall
An exhibit hall will demonstrate assistive technology and accessible information technology along with providing training opportunities on how digital information can be developed accessibly. The UIC Campus will demonstrate current resources available that promote accessible information technology and assistive technology. There is still time to be an exhibiting sponsor, please contact the organizing committee at drc@uic.edu
PDF Accessibility Standards
The PDF (Portable Document Format) is file format that has many advantages including view to print integrity by preserving formatting between platforms. Many organizations use PDF for preserving and distributing important documents. It is important to note that PDF is non-proprietary and while the company Adobe Systems is strongly associated with the file format because of their free reader, Acrobat Reader, it is an open standard the many companies including Google and Microsoft support.
The PDF format is quite ubiquitous and has many advantages, but it has had a history of accessibility issues for people utilizing various assistive technologies. While there have been improvements by to adding structure and usability to the format specifications, there are still limitations.
The International Organization for Standardization is addressing the issue by creating a working group to develop standards for the PDF file format that are similar to the standards for HTML accessibility including the new WCAG 2.0 accessibility standards. The PDF Universal Accessibility (PDF/UA) Committee is actively working on these standards so individual developers, PDF generators, and PDF viewing agents (software) can use these standards to ensure PDF files are accessible for people with disabilities. Of course, these PDF/UA standards are similar to HTML accessibility standards and implementing the standards are left to the discretion of the PDF developer and the PDF creation tool.
For more information on PDF accessibility:
Free Webinar Series for Illinois Faculty
The Great Lakes ADA Center is pleased to sponsor a new webinar series hosted by the Web Accessibility Consortium of the Illinois Board of Higher Education (IBHE). The Web Accessibility Consortium is a network of Information Technology (IT) professionals, which support the implementation of the Illinois Information Technology Accessibility Act (IITAA) in higher education institutions throughout the state of Illinois.
Next Session: Thursday April 19, 2012 2:00 - 3:00pm CST
SoftChalk LessonBuilder with Speaker Chris Dobson, Harper College

Chris Dobson
Harper College
Looking for ways to empower and engage your students. SoftChalkLessonBuilder enables you to build accessible-learning instruction with interactive activities, which can provide the immediate and meaningful feedback your students need to keep them engaged in your course. This presentation will demonstrate features of SoftChalkLessonBuilder that incorporate concepts of universal design and accessibility. Other topics to be discussed will include content delivery, it's integration with learning management systems, portability, and other benefits of this software application
In his current position as Curriculum Content Graphic Illustrator for the Center for Innovative Instruction at Harper College, Chris creates custom illustration, multimedia, laboratory manuals, and other media for faculty course materials and manages his department's academic Web site. Besides these duties, Chris facilitates several faculty development workshops in the areas of electronic media, technology tools, Web accessibility and Web development.
The series is free, but participants must pre-register at http://www.adaconferences.org/IBHE/
Future sessions:
Adobe Captivate with Giovanni Duarte, DeVry University May 17, 2012
Membership on this committee is open to anyone interested in supporting the accessibility of Web-based resources in higher education in Illinois to people with disabilities. To participate in the IBHE consortium, please visit: http://ibhe.cita.illinois.edu/
Implementing Section 508
Over the past few years, the government has taken several affirmative steps regarding Section 508. For the first time, the Chief Information Officer Council and the Chief Acquisition Officer Council now jointly chair the Chief Information Officers Accessibility Committee. Following that creation, in July 2010, OMB issued a memorandum, Improving the Accessibility of Government Information, to set forth additional steps. This memo focused on (1) increasing awareness of responsibilities and requirements associated with Section 508, (2) improving agency accountability and accessibility performance, and (3) improving outreach and communication. It also included a requirement to host listening sessions with the community across the nation to gather input on Federal implementation of Section 508.
Recognizing that the need to do more, in July 2011, the President announced an effort to develop a strategic plan for Section 508 and the intent to share the strategy with the public. To support development of this plan, senior officials and staff from across the Executive Office of the President have met with advocacy groups, Section 508 coordinators, the CIOC Accessibility Committee, the Access Board, the General Services Administration, and other key stakeholders inside and outside the government. There has been listening sessions as well as all the input received through various stakeholder meetings and pulled together a framework for the next phase in efforts to improve Section 508 management.
What You Can Do
Before proceeding further with development of the strategic plan, we are seeking your input and expertise. Taking into account ideas from all the stakeholders we've met with so far, we posted a strategy document on www.section508.ideascale.com. It includes high level objectives, initiatives, focus areas, and potential measures. We're looking for you to comment on what has been proposed, but also for you to propose broad management strategies, tactics, and actions that can ultimately help Federal agencies better comply with Section 508.
For more information see: http://www.whitehouse.gov/blog/2012/03/19/implementing-section-508-improving-access-government-information-and-data-persons-di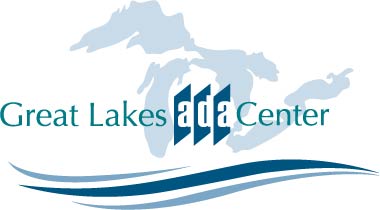 The Great Lakes ADA Center provides expert assistance via a national toll-free information line 800-949-4232 (V/TTY) or Online via Contact Us and presents customized trainings for employers, businesses, government, and individuals with disabilities regarding accessible technology and the Americans with Disabilities Act (ADA) of 1990.
Great Lakes ADA and Accessible IT Center
University of Illinois at Chicago
Department of Disability and Human Development (MC 728)
1640 West Roosevelt Road, Room 405
Chicago, IL 60608-6904