October � December 2012
Volume 7 Issue 1
Welcome to the Great Lakes ADA Center's quarterly Accessible Technology Bulletin
Technology Trainings & Events


(Central Standard Time)
HighEdWeb Conference
October 7 - 10, 2012
Milwaukee, WI
WAVE Web Accessibility Evaluation Tool
October 9, 2012 1pm
Online
Closing the Gap Conference
October 17 - 19,2012
Bloomington, MN
National Rehabilitation EducationConference
October 28 - 30, 2012
Arlington, VA
EDUCAUSE Conference
November 6 - 9, 2012
Denver, CO
Accessing High Ground: Accessible Media, Web, and Technology Conference
November 12 -16, 2012
Boulder, CO
Easy-to-Read on the Web Symposium
December 3, 2012
Online
Assistive Technology Across the Lifespan Conference
December 6 - 7, 2012
Wisconsin Dells, WI
Assistive Technology in the Transition Process
December 6, 2012, 6:30 - 8:30 PM CST
Minneapolis, MN and Online
Mobile Accessibility
December 11, 2012, 1PM CST
Online
A Free Toolbar to Evaluate Websites for Accessibility
WAVE is a free web accessibility evaluation tool provided by WebAIM. It is used to aid humans in the web accessibility evaluation process. Rather than providing a complex technical report, WAVE shows the original web page with embedded icons and indicators that reveal the accessibility of that page.From the mail Wave site http://wave.webaim.org/ you can, enter a URL, upload a file, or enter HTML code directly to receive the overview report. In addition WAVE can be installed as a Firefox toolbar, a Dreamweaver Extension, or Google toolbar.
About Our Speaker
Jared Smith is the Associate Director of WebAIM and has provided web accessibility training to thousands of developers throughout the world. With over 13 years' experience working in the web design, development, and accessibility field, he brings a wealth of knowledge and experience that is used to help others create and maintain highly accessible web content.
The Accessible Technology Webinar series is featuring a webinar on WAVE on October 9, 2012.
Don't miss it, register today at http://www.ada-audio.org/Webinar/AccessibleTechnology/
The Accessibility of eReaders
An eReader is a device in which you may store an enormous number of ebooks. ebooks are electronic or digital books. It is quite convenient as you don't have to lug tons of books around and instead have one light and good sized device on which to keep your books stored. eReaders are also capable of connecting to online book stores and libraries to easily load books right on the device. eReaders can be portable devices used primarily for reading electronic books, such as the Kindle or Barnes and Noble Nook. They can also be general purpose tablets with book-reading apps, like the iPad or Samsung Tablet.
In theory, the digital text on an eReader is also more accessible because you can manipulate that format in a way not possible with a paper-bound book. Many users benefit from varying the text size to suit their needs. Both types eReaders have some accessibility advantages and developers have been making their products more accessible to people with visual or physical limitations.
However, there is concern about how accessible these devices are to people with disabilities. Institutions of higher education and public libraries are especially concerned since the Justice Department has sited some eReaders as excluding persons who are blind or have other disabilities under the Americans with Disabilities Act.
"Emerging technologies like e-readers are changing the way we interact with the world around us and we need to ensure that people with disabilities are not excluded from the programs where these devices are used," Assistant Attorney General Thomas Perez said in a recent press release.
What makes an eReader Accessible?
But just what makes an eReader accessible or not? That answer is more complex that it might first appear. At the very basic level, an eReader is accessible if people, including those who are blind or have other disabilities can use the device to read. But, there are many factors involved in this process. The hardware of the eReader must be accessible, then the apps or software must be accessible, and finally there is the format of electronic text. There are dozens of formats used in publishing electronic books which complicate accessibility efforts.
There are universally accepted standards on what makes an eReaders accessible, nevertheless guidance in from website and software accessibility is a good starting point.
Below is a quick checklist that can help you determine the accessibility of any given eReader and electronic book.
Is the eReader (and book) accessible to screen readers?

For Example:

Text can be selected and read aloud.
One can directly access book text and copy it using screen reader
One can set highlight and make notes using screen reader
Speech rate and volume easily adjustable.
Physical keyboards have tactile markers and on-screen keyboards voice selection prior to actuation/key press.
Easy to mute and to pause the audio on the device or software reader.
Images have alternative text descriptions

Is the eReader (and book) able to be used by people with low vision or color blindness?

For Example:

One can set high-contrast or adopt native OS contrast settings.
User interface can be enlarged
The controls are not differentiated by color alone.
Device controls are clear and large enough to be seen or easily identifiable by touch.

Is the eReader (and book) able to be used by people with motor difficulty?

For Example:

Readers able to be navigated solely by voice.
Hardware controls can be used with pointing devices or alternative keyboards?
Accuracy level and targets for touch devices is adjustable or changeable.
Devices are light, durable, and able to be mounted.
Able to be set up independently by the person with a motor disability.

Is the eReader (and book) able to be used by people with hearing loss or deafness?

For Example:

Audio output can be configured and adjusted easily.
Captions are available for videos and multimedia
Audio only cues and alerts have visual equivalents.
Resources to Learn More
This article is just a starting point for learning more about accessible eReaders. The following resources will help you learn more on the topic. Or contact http://www.adagreatlakes.org/WebForms/ContactUs/ with additional questions
Making the Web Accessible for People with Intellectual Disabilities
Often when we talk about website accessibility, we interpret that to mean accessible to blind individuals who use a screen reader, but in fact accessible means usable by anyone with limitations in how they interact with a website. One commonly overlooked group regarding website accessibility is people with cognitive disabilities.
One of the difficulties in addressing website accessibility for individuals with cognitive disabilities is the wide range of areas that may affect their web interactions. The concept of cognitive disabilities is extremely broad and not always well-defined. Usually it means that a person has greater difficulty with one or more mental tasks than the average person.
A cognitive or neurological disability may affect a user's ability to read the textm navigate the website, keep focused on the task at hand, comprehend the material, or any combination of similar issues.
Addressing these varied needs can turn into quite a lengthy list for web developers. Luckily good design can make improvements without too much difficulty. Basic design principles like, consistency of navigation, clear intention of any interactive elements, avoidance of unexpected sounds or useless animations, and generous use of white space are part of accessibility and usability for people with cognitive disabilities and those without. For more information on addressing specific needs of people with cognitive disabilities http://webaim.org/articles/cognitive/design has an excellent article on the topic.
Readability at times can be a more difficult area to address. Good readability guidelines apply to all text on your page, whether in navigation, graphics or just plain content. The most important part of any page is the content and following plain language guidelines will help you make your content as readable and intuitive as possible.
Plain language is a movement started with the passage of the Plain Writing Act of 2010, which requires Federal agencies to communicate clearly in a way that the public can understand and use. These guidelines are an excellent starting point for addressing content accessibility on a website.
A quick checklist of implementing plain language is provided by the http://www.plainlanguage.gov/howto/quickreference/weblist.cfm website
Additional Resources
The following are additional articles to learn more on website accessibility for individuals with cognitive disabilities: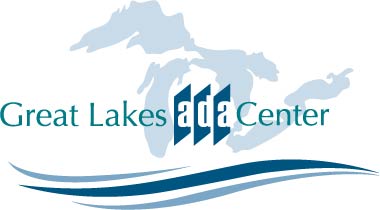 The Great Lakes ADA Center provides expert assistance via a national toll-free information line 800-949-4232 (V/TTY) or Online via Contact Us and presents customized trainings for employers, businesses, government, and individuals with disabilities regarding accessible technology and the Americans with Disabilities Act (ADA) of 1990.
Great Lakes ADA and Accessible IT Center
University of Illinois at Chicago
Department of Disability and Human Development (MC 728)
1640 West Roosevelt Road, Room 405
Chicago, IL 60608-6904