Oct � Dec 2013
Volume 8 Issue 1
ADA Center's quarterly Accessible Technology Bulletin
Technology Trainings & Events


(Central Standard Time)
HighEdWeb Conference
October 6 - 9, 2013
Buffalo, NY
Closing the Gap Conference
October 9 - 11, 2013
Bloomington, MN
Transition to Employment
October 14, 2013
6:30 - 8:30 PM CST
Duluth, MN
EDUCAUSE Conference
October 15 - 18, 2013
Anaheim, CA
National Rehabilitation Education Conference
November 3 - 5, 2013
Arlington, VA
Accessing High Ground: Accessible Media, Web, and Technology Conference
November 4 - 8, 2013
Westminster, CO
Across the Lifespan
November 14 - 15, 2013
Wisconsin Dells, WI
Section 508 Refresh - Using WCAG 2.0 to Evaluate Document Accessibility
December 5, 2013 1:30pm
Online
Final 2013 Accessible Technology Webinar
The final session of the 2013 Accessible Technology Webinar Series is Thursday November 21, 2013 1:00 - 2:30pm CST.
Advanced Accessible PDF Part 2 - Tables, Forms, and More.with Speaker Christy Blew, University of Illinois at Urbana-Champaign
Sometimes additional editing is needed to get your PDF fully accessible. This session will look at the Table and Form Editors, changing reading order for assistive devices, and new features in Acrobat XI. This session is Part 2 of Creating Advanced Accessible PDFs. Participants should have a basic understanding of accessible PDF principles such as tagging and navigational structure, which were covered in Part 1 webinar. The archive of that session is available at http://bit.ly/1b9sEnb.
About Our Speaker
Christy Blew
Christy Blew is an IT Accessibility Specialist at the University of Illinois at Urbana-Champaign. She has over 15 years of experience in developing and using internet technologies to deliver information to people and has been working with IT accessibility education for over 10 years. Christy is part of the ITaccess initiative at the UIUC that focuses on the awareness, evaluation, and education of accessibility of electronic information. Her online and classroom training sessions include accessibility issues with Word, PowerPoint, and PDF. Christy currently holds a Masters in Technology and a Certification in Computer Science from Eastern Illinois University.
The Accessible Technology Webinar series is free, but participants must register at http://www.ada-audio.org/
The Accessible Technology Webinar series is hosted and coordinated by the Great Lakes ADA Center and the Pacific ADA Center, members of the ADA National Network. The ADA National Network provides comprehensive services for up-to-date information, consultation, referrals, resources, and training on the Americans with Disabilities Act for businesses, employers, governmental entities, service providers and individuals with disabilities.
Chief Accessibility Officer
There is a new title appearing more often in all types of organizations which is that of a Chief Accessibility Officer or Chief Information Accessibility Officer, from Robert Sinclair at Microsoft to Christopher Rice at AT&T. The disability community sees this as a positive trend, giving organizations a practical framework for implementing accessibility with accountability.
Jay Wyant
The Great Lakes ADA Center recently spoke with Jay Wyant, State of Minnesota's newly appointed Chief Information Accessibility Officer, about the position and the impact on improving accessibility across the state. Here is what Jay had to share:
Q: Jay, the position of Chief Information Accessibility Officer for the State of Minnesota is relatively new. Can you tell me how it came to pass?
A: A number of advocacy groups were frustrated with the lack of accessibility of many State websites as well as internal and external applications and systems. In addition, there was clear documentation that State employment of people with disabilities had steadily declined in the last decade. They felt that there needed to be specific mechanisms in place to provide support and education resources for accessibility, as well as enforcement.

They worked with legislators to pass a law in 2009 requiring the State CIO to develop and implement a state accessibility standard. A related statute established an advisory body for the CIO with regards to accessibility.

The new Standard was enacted in 2010. In the advisory committee's report to the legislature, they recommended that funding be established for a Chief Information Accessibility Officer (CIAO) to help state agencies develop processes and best practices to comply with the Standard.
Q: Was this position and strategy modeled on other states? Or is Minnesota pioneering this type of approach to accessibility implementation?
A: A few other states have significant accessibility initiatives, but Minnesota's approach appears to be unique; we don't know of any other state with a CIAO.
Q: What does your job entail? And how do you accomplish it?
A: That was one of the exciting and attractive aspects of the job. It has been up to me to define what I do and how I carry out the position. I have received strategic guidance from an advisory committee, but as far as my day-to-day activities, I have been responsible for defining my tasks and deliverables.

The long-term goal is a fully accessible state government, in which all our information and applications - whether for the public or for employees - are fully accessible. To that end, I have been working on multiple fronts, from general awareness and training resources to increasing the State's knowledge base on best practices and helping agencies develop appropriate policies and procedures.
Q: What has been your biggest success (so far) in this position?
A: We have a grant program that allows agencies to apply for funds to address an accessibility-related issue, such as training on how to make accessible PDF documents, remediating inaccessible documents, buying testing software, and so on. Initially, adoption was slow, and we were concerned that we would not be able to spend the grant funds within the allotted time. But as agencies started to implement more accessibility-related policies and practices, they saw the value of the grant program and we were able to award all the funds. A significant factor was a group of agency representatives serving as accessibility coordinators. Once I convened the group for monthly meetings, the issue of accessibility started to gain more traction at agencies.
Q: What is the biggest challenge (so far) to being the state's first Chief Information Accessibility Officer?
A: It is easy to get overwhelmed with the details. Every day, there is so much to do that I could easily spend the entire day just answering emails and responding to requests. I have to allocate time for me to focus on strategic activities that have a long-term impact.
Q: Why do you believe accessibility is important?
A: There are many reasons, but the most basic is that it is the right way to do things. Why build a website or application that only some people can use? It is also a more cost effective approach: if you apply the necessary thought and care to ensure that everyone can use your technology, you will have better, more effective technology that has a better chance of lasting longer before it needs to be updated or replaced.
QIAT-PS Recruiting Pilot Schools
The
Quality Indicators for Assistive Technology in Post-Secondary education
project offers tools and resources on quality implementation of assistive technology in the post-secondary educational environments. The project is sponsored by the
Great Lakes ADA Center
and the
Southwest ADA Center
, both members of the
ADA National Network
. QIAT-PS is a collaborative effort of hundreds of professionals from a wide variety of higher education and K-12 schools and based on the successful implementations of assistive technology indicators in K-12 public schools.
For the 2013-2014 school year the Great Lakes ADA Center is recruiting participants, post-secondary educational institutions, in the Great Lakes states of Minnesota, Wisconsin, Ohio, Indiana, Illinois, and Michigan to be involved in the pilot study. The pilot study will assess our Campus Self-Evaluation Matrix. The Campus Self-Evaluation Matrix is a way for a school to do a self-evaluation of their own assistive technology service delivery.
Participation in the pilot study will receive online training on the Campus Self-Evaluation Matrix, consultation on setting priorities for improvement of Assistive Technology service deliver, and resources about Assistive Technology tools. If you are interested or have any questions, please contact us via the QIAT-PS contact form:
http://qiat-ps.org/contact-us/
The QIAT-PS project tools, such as the Campus Self-Evaluation Matrix is available, however without participating in the pilot project. The website has details
www.qiat-ps.org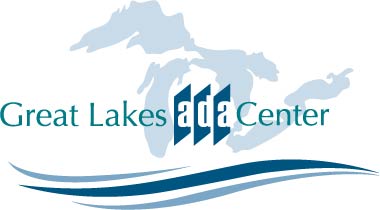 The Great Lakes ADA Center provides expert assistance via a national toll-free information line 800-949-4232 (V/TTY) or Online via Contact Us and presents customized trainings for employers, businesses, government, and individuals with disabilities regarding accessible technology and the Americans with Disabilities Act (ADA) of 1990.
Great Lakes ADA and Accessible IT Center
University of Illinois at Chicago
Department of Disability and Human Development (MC 728)
1640 West Roosevelt Road, Room 405
Chicago, IL 60608-6904