Jan - Mar 2014
Volume 8 Issue 2
ADA Center's quarterly Accessible Technology Bulletin
Technology Trainings & Events


(Central Standard Time)
Accessibility and a New Generation of High-Stakes Tests
January 15, 2014 2:30pm
Online
Web Accessibility Training
January 14- 15, 2014
Logan, UT
Accessibility of Electronic Information Databases used by Libraries
January 21, 2014
1pm CST
Online
Implementing Accessibility for WordPress Course
January 21 - May 2, 2014
Online
ARIA 1.1 Planning Meeting
January 23 - 25, 2014
Toronto, CA
Ohio Education Technology Conference
Jan 27 - 29, 2014
Columbus, OH
Assistive Technology Industry Association Conference
January 29 - February 1, 2014
Orlando, FL
Microsoft Accessibility Features
February 3, 2014
Bloomington, MN
LDA International Conference
February 19 - 22, 2014
Anaheim, CA
International Technology & Persons with Disabilities Conference
March 17 - March 22, 2014
San Diego, CA
Accessible Technology Webinar Series Announced
The new Accessible Technology Webinar series schedule is now available. The series is hosted and coordinated by the Great Lakes ADA Center and the Pacific ADA Center, members of the ADA National Network.
The ADA National Network provides comprehensive services for up-to-date information, consultation, referrals, resources, and training on the Americans with Disabilities Act for businesses, employers, governmental entities, service providers and individuals with disabilities.
The first Session in the 2014 series is Thursday January 23, 2014 1:00 - 2:30pm CST How to Design and Deliver an Accessible Webinar with Speaker Robin Jones, Director of the Great Lakes ADA Center
Access to individuals with disabilities, including those who are deaf or hard of hearing and people who are blind or have low vision must be provided. This applies whether you are participating in a webinar or presenting one. The Great Lakes ADA Center has worked together in providing a monthly webinar series and has developed some technical assistance to assist others in ensuring accessibility. This session will examine the use of interactive features, captioning, audio connections, and other features as it relates to those who are planning to provide webinars as well as those who are developing webinar platforms.
About Our Speaker
Robin Jones
Robin Jones is the Director of the Great Lakes ADA Center and an Instructor at the University of Illinois at Chicago. The Center serves the States of Illinois, Indiana, Michigan, Minnesota, Ohio and Wisconsin. The Center provides training and technical assistance on the Americans with Disabilities Act of 1990 and issues related to Accessible Information Technology.
The Accessible Technology Webinar series is free, but participants must register at http://www.ada-audio.org/
Future sessions:
March 27, 2014 Introduction to ARIA with Virginia DeBolt
May 22, 2014 Web Accessibility Analytics with Jon Gunderson
July 24, 2014 Android Accessibility, speaker TBD
September 25, 2014 Useful Apps, speaker TBD
November 20, 2014 CART and Captioning for Web Based Applications with Nick Wilkie
VPAT and Beyond
Purchasing accessible products must address the whole range of information and electronic technologies including, web products, web authoring tools, multimedia, software, and other electronic equipment. The process can sometimes feel overwhelming to organizations.
This is where a VPAT can be valuable. VPAT stands for Voluntary Product Accessibility Template. A VPAT is a vendor-generated statement that provides information on how a product or service conforms to the Section 508 Accessibility Standards (www.section508.gov) for Electronic and Information Technology in a consistent fashion and format.
In general, vendors should generate a VPAT whenever they develop products or services that are covered by electronic information technology products covered by Section 508. In each VPAT, vendors are expected to make specific statements in simple understandable language about how their product or service meets the requirements of the Section 508 Standards.
Example of a Summary Table of a VPAT


The first step in purchasing accessible electronic information products is to request the VPAT, but be sure you are ready to read and ask good questions about any given VPAT documentation. The following are examples of follow up VPAT questions:
Is the VPAT comprehensive? Are all the sections necessary completed? For example, did they discuss Functional and Information, Documentation, and Support provisions?
Does the VPAT cover the latest version of the product? Match the version numbers of the product you are purchasing and the version/date of the VPAT. Upgrades may have increased or decreased the accessibility of the product.
What criteria or testing protocol did they use in completing the VPAT? Can that report or documentation be shared with you?
Do they include any use cases? A use case details core functionality used within the product with any problems identified when using relevant assistive technology. This is an example include use cases from VoIP Telephony of Cisco Systems. Links to a .doc file http://bit.ly/Ipfw3n
There are challenges in dealing with VPATs both for the vendor and the purchaser, so it's best not to rely solely on the VPAT information to determine the accessibility of any given product. Many organizations ask for additional information to support the case for accessibility. For example California State University requests, in addition to the VPAT, an Accessibility Roadmap to give more details on third party add-ons and open issues. Links to a .docx file Accessibility Road Map Template http://bit.ly/17NL5xE
Getting a demonstration of the product as it is used with assistive technology, is another extension of the VPAT that is useful. As well, it is worth asking for their in-house accessibility expert or contact that you can speak with to ask more detailed questions about claims or gaps in the VPAT.
What if they don't know what a VPAT is? Chances are they are not familiar with accessibility requirements and they have probably not developed the product accordingly. But do ask for addition information, sometime sales staff and developers do not know the same information regarding VPATs or accessibility requirements.
Moving Accessibility Forward
If you are a professional involved with the accessibility of electronic and information technology consider joining the International Association of Accessibility Professionals (IAAP). IAAP is a new membership based association for individuals and organizations. They welcome those who have already developed expertise in accessibility and those who need to better understand accessibility and learn how to integrate it into their everyday work.
Individual companies will continue to push the boundaries and rapidly innovate, but they need a reliable partner to help them establish and maintain a highly skilled workforce of designers, engineers, writers, trainers, business leaders, etc. Their employees need to understand the 'why,' 'what,' 'how,' and 'who' of accessibility and inclusive design so they can apply it in their day-to-day work. This is the role IAAP will play for companies, organizations, governments, and individuals around the world.
Accessibility is a broad term and providing access to all things technology, environments, and services is the ultimate goal. The initial focus of IAAP will be on providing access to information and communications technology. But this organization will provide a place for all individuals to gather, share experiences and connect to others of similar interests. Through networking, education and certification they hope to effect the creation of more accessible products, content, and services.
Now is the chance for you or your organization to get involved. Membership will be open to individuals at no charge for the first year. Organizational membership levels will also be available for a fee to large corporations, small to medium sized businesses, not for profits, government agencies, and institutions of higher education.
Watch for the announcement of the launch of IAAP and make a pledge to get involved and move accessibility forward.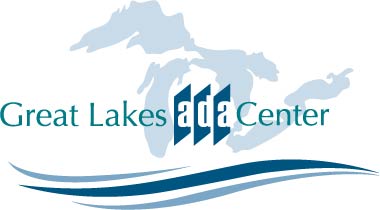 The Great Lakes ADA Center provides expert assistance via a national toll-free information line 800-949-4232 (V/TTY) or Online via Contact Us and presents customized trainings for employers, businesses, government, and individuals with disabilities regarding accessible technology and the Americans with Disabilities Act (ADA) of 1990.
Great Lakes ADA and Accessible IT Center
University of Illinois at Chicago
Department of Disability and Human Development (MC 728)
1640 West Roosevelt Road, Room 405
Chicago, IL 60608-6904