April - June 2014
Volume 8 Issue 3
ADA Center's quarterly Accessible Technology Bulletin
Technology Trainings & Events


(Central Standard Time)
Charting the Cs Cross Categorical Conference
April 14 - 15, 2014 2:30pm
Alexandria, MN
Update on HTML 5 Accessibility
April 17, 2014 1pm CST
Online
University of Illinois Web Conference
April 28 - 29, 2014
Champaign, IL
Technology for Accessing Electronic Information for People who are Blind or Visually Impaired
April 29, 2014 2:30pm CST
Online
Web Accessibility Training
May 6 - 7, 2014
Logan, UT
Accessibility and a New Generation of High-Stakes Tests: Spring 2014 Update
May 14, 2014 2:30pm CST
Online
An in-depth Look at iOS 7's Accessibility Features
May 19, 2014 6:30pm CST
Online
Rehabilitation Engineering and Assistive Technology Society of North America (RESNA) Annual Conference
June 11 -15, 2014
Indianapolis, IN
Join Us for Next Accessible Technology Webinar
The Accessible Technology Webinar series is hosted and coordinated by the Great Lakes ADA Center and the Pacific ADA Center, members of the ADA National Network.
The ADA National Network provides comprehensive services for up-to-date information, consultation, referrals, resources, and training on the Americans with Disabilities Act for businesses, employers, governmental entities, service providers and individuals with disabilities.
The Next Session is Thursday May 22, 2014 1:00 - 2:30pm CST Web Accessibility Analytics and Open Source Tools for Inspecting and Auditing Web Resources for Accessibility with Speaker Dr. Jon Gunderson, University of Illinois at Urbana/Champaign
Jon Gunderson
The presentation will demonstrate the AInspector Sidebar and FAE 2.0 which are open source tools to help web developers understand the accessibility features and problems with the resources they are developing. In addition to the tools the coding practices web resources will be also presented. The coding practices are designed to help web developers understand the accessibility issues of meeting the requirements of Section 508 and W3C Web Content Accessibility Guidelines (WCAG) 2.0 requirements.
Dr. Gunderson has been the Coordinator Information Technology Accessibility in the Division of Disability Resources and Education Services (DRES) at the University of Illinois. He leads the IT accessibility efforts on the University of Illinois at Urbana/Champaign campus. He is the chair of the Open Accessibility Alliance and co-chair of the OpenAjax Accessibility Task Force and a member of the W3C Protocols and Formats Working Group work on the Accessible Rich Internet Applications (ARIA) and the W3C Web Content Accessibility ARIA/HTML techniques task force. He is the former chair of the W3C User Agent Accessibility Working group that produced the W3C User Agent Accessibility Guidelines 1.0 specification. He has given numerous presentations, workshops and courses related to web accessibility. He leads the development of open source web accessibility evaluation tools: AInspector Sidebar for Firefox and the Functional Accessibility Evaluator 2.0 (FAE) to audit and report on the accessibility of entire websites. He works with campus web developers and companies who the university purchases web based resources and applications to improve the accessibility of campus web resources to students, faculty and staff with disabilities.
The Accessible Technology Webinar series is free, but participants must register at http://www.ada-audio.org/
Future sessions:
July 24, 2014 Android Accessibility, speaker TBD
September 25, 2014 Useful Apps, speaker TBD
November 20, 2014 CART and Captioning for Web Based Applications with Nick Wilkie
Groundbreaking Accessibility Agreement
A groundbreaking agreement has been reached between the University of Montana and the United States Department of Education, Office for Civil Rights (OCR).Under the agreement, the University of Montana will develop a comprehensive set of policies and procedures to ensure that all electronic and information technology procured or deployed by the university can be used by the blind and other students with disabilities. Steps that will be taken by the university include developing an accessibility policy; training faculty and staff on the policy; conducting a survey of current and former students with disabilities to identify the problems that they have experienced; developing a grievance procedure for students and faculty who experience access issues; and more. The agreement covers technology used in all aspects of education and campus life, including electronic textbooks and course materials, online course registration, online courseware and learning management systems, classroom technology (such as smart podiums and clickers used to take attendance or conduct classroom quizzes), library services, on-campus banking services, university office equipment, and much more. In order for technology to be accessible to students who are blind, it must have the ability to provide audio or Braille output or to work with technology used by the blind that can provide such output, such as text-to-speech screen access software or electronic Braille displays.
Dr. Marc Maurer, President of the National Federation of the Blind, said: "While complaints by individual students and legal actions can incrementally improve access to higher education, there is no substitute for comprehensive and effective policies that are implemented and enforced at the highest levels by university administrations. This agreement, which is the most comprehensive of its kind to date, represents a thorough and systematic approach that will benefit University of Montana students for years to come and serve as a model for university policies and practices across the nation. We applaud the University of Montana for the extraordinary commitment that it is making to ensure that all of its students, including those who are blind or who have other disabilities, receive the equal education that the law demands and the full benefit of the college experience that the university provides. We also applaud the work of the Office for Civil Rights, which has crafted this agreement with extensive input from the National Federation of the Blind and which will work with the university to ensure its full implementation."
Resources:


Amara Captions by Crowdsourcing
There are many benefits to adding captions to user-generated web videos, including making those videos accessible for viewers who are deaf or hard of hearing and making them more usable with easier to search options. Captions also make translations via subtitles possible and that means reaching a wider linguistic and global audience.
Amara was developed to make this process easier and thereby increasing the accessible videos available for the public. Amara provides one of the more simple platforms to create captions or subtitles from scratch. Captions transcribe the audio in a video including non-spoken audio, like a door shutting or music, to the text equivalent synced with the video. Subtitle is a more generic term used to refer to the translation from one language to another, such as English to French. Subtitles may or may not have the non-spoken audio information. Amara utilizes crowdsourcing and the power of the Internet, so you can take a video from anywhere on the web and have volunteers from all over the world contribute time and talent to create captions and subtitles for that video. Amara gives individuals, communities, and larger organizations the power to overcome accessibility and language barriers for online video. Additionally, the Amara tools are open source which means the original source code is made freely available and may be redistributed and modified for improvement.
Getting involved in Amara is a great way to contribute and increase accessibility of online videos available today. You can find out more about volunteering or submitting videos to Amara at www.amara.org.
Resources:
Third-Party Captioning and Copyright (new!) - The G3ICT has just released a new white paper to take stock of this critical moment for captioning. It has an overview of closed captioning laws and copyright law and the role of third party tools (like Amara). It considers potential drivers behind the conflict, closing with an analysis of potential solutions including contracts, fair use, and legislation. http://g3ict.org/resource_center/publications
Use Window-Eyes for Free
TGW Micro, Inc. (www.gwmicro.com) is proud to make a revolutionary announcement. GW Micro and Microsoft Corp. have partnered to make Window-Eyes available to users of Microsoft Office at no cost.
Eligible customers, using Microsoft Office 2010 or higher, will be able to download a full version of Window-Eyes starting today at www.WindowEyesForOffice.com. The website provides download instructions as well as additional details about this offer.
Window-Eyes is a screen reader that enables people who are blind, visually impaired, or print disabled to have full access to Windows PCs and makes the computer accessible via speech and/or Braille.
To better deliver Window-Eyes to the people who need it most, GW Micro and Microsoft have collaborated on this global initiative, available in over 15 languages, to enable anyone using Microsoft Office 2010 or later to also use Window-Eyes for free. Access to technology is critical to people who are blind or visually impaired in order to have the same opportunity to compete in the workplace. As such, this initiative between GW Micro and Microsoft has the potential to reduce barriers for millions of people who are blind or visually impaired around the world.
As the population ages, technologies like Window-Eyes will become more and more important as the number of people with age-related macular degeneration and other retinal degenerative diseases increases. "This significant change in the way we are doing business reflects the changing perception of accessibility and also technology in general. Rather than wait for the world to change, Microsoft and GW Micro are leading the way," said Dan Weirich, Vice President of Sales and Marketing for GW Micro. Weirich believes this technology can help millions of people gain access to their PC, and that providing it free of charge will open a whole new world of assistive technology to many people.
GW Micro, Inc. (www.gwmicro.com) has been a trusted pioneer in the adaptive technology industry since 1990, and continues to lead with innovative, customer driven solutions.
Source: GW Micro Press Release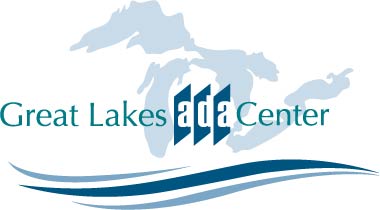 The Great Lakes ADA Center provides expert assistance via a national toll-free information line 800-949-4232 (V/TTY) or Online via Contact Us and presents customized trainings for employers, businesses, government, and individuals with disabilities regarding accessible technology and the Americans with Disabilities Act (ADA) of 1990.
Great Lakes ADA and Accessible IT Center
University of Illinois at Chicago
Department of Disability and Human Development (MC 728)
1640 West Roosevelt Road, Room 405
Chicago, IL 60608-6904