July - September 2014
Volume 8 Issue 4
ADA Center's quarterly Accessible Technology Bulletin
Technology Trainings & Events


(Central Standard Time)
Association on Higher Education and Disability(AHEAD)
July 14 - 19, 2014
Sacramento, CA
Windows 8 and Help for Jaws Users
July 24, 2014 1pm CST
Online
Implementing Accessibility Strategically
August 6, 2014 1pm CST
Online
Web Accessibility Training
August 12- 13, 2014
Logan, UT
Windows 8 and New File Folder
August 21, 2014 1pm CST
Online
Join Us for Next Accessible Technology Webinar
The Accessible Technology Webinar series is hosted and coordinated by the Great Lakes ADA Center and the Pacific ADA Center, members of the ADA National Network.
The ADA National Network provides comprehensive services for up-to-date information, consultation, referrals, resources, and training on the Americans with Disabilities Act for businesses, employers, governmental entities, service providers and individuals with disabilities.
The Next Session is Thursday July 24, 2014 1:00 - 2:30pm CST High Quality Apps for Accessibility with Speaker Jonathan Campbell, PACER Center
Jonathan Campbell
Both Apple's App Store for iOS and Google's Google Play Store for Android have over a million apps available to download for their various devices. That's a lot of choices! In this session Jonathan Campbell will talk about and share some of the best apps for accessibility. You'll learn about high quality apps for reading, writing, communication, and more. We'll explore apps that can be used to magnify print documents for low vision, read books out loud for individuals with dyslexia, and identify objects for the blind. With over a million apps available we'll look at some the best needles in that giant haystack.
Jonathan Campbell works as an Assistive Technology Specialist for PACER's Simon Technology Center. He has experience working as a computer trainer at Apple and working hands on as a paraprofessional and classroom aid assisting children with disabilities. He has a passion for technology that he uses to present, promote, and inform about the benefits of assistive technology through workshops, trainings and in-services. Using his video production and multimedia skills, Jonathan produces projects like the Assistive Technology in Action video series that highlights Assistive Technology users, the Simply Said video series that explains complex concepts in easy to understand language, and the AT Minute series that demonstrates Assistive Technology. All these video projects are freely available on the PACER Center YouTube channel.
The Accessible Technology Webinar series is free, but participants must register at http://www.ada-audio.org/
Future sessions:
September 25, 2014 Android Is Accessible, Really! - with Ana G.
November 20, 2014 Captioning for Web Based Applications with Nick Wilkie
Update to the Functional Accessibility Evaluator
The Functional Accessibility Evaluator (FAE) 2.0 free accessibility tool has been updated to provide comprehensive reporting and rating based on the W3C Web Content Accessibility Guidelines (WCAG) 2.0 Single A and AA Success Criteria.
The Functional Accessibility Evaluator has been a useful tool for many years to help accessibility experts analyze a website and provide user friendly overview of accessibility problems and issues on a site. The updated version provides better support for WCAG and WAI-ARIA.
WAI-ARIA, the Accessible Rich Internet Applications Suite, defines a way to make Web content and Web applications more accessible to people with disabilities. It especially helps with dynamic content and advanced user interface controls developed with Ajax, HTML, JavaScript, and related technologies. Currently certain functionality used in Web sites is not available to some users with disabilities, especially people who rely on screen readers and people who cannot use a mouse. WAI-ARIA addresses these accessibility challenges, for example, by defining new ways for functionality to be provided to assistive technology. With WAI-ARIA, developers can make advanced Web applications accessible and usable to people with disabilities.
Every rule used in the FAE is referenced the WCAG 2.0 Success Criterion requirement and includes usability concepts in web design for people with disabilities. The updated rules support coding techniques that improve usability of web resources.
To use the FAE, simply type your URL in at the main page http://fae20.cita.illinois.edu/ and specify the Ruleset to use. The options are WCAG + ARIA or WCAG + Landmarks.
After successfully completing the analysis, FAE displays the Summary Report, which provides a high-level view of the evaluation results, and places a link to this report in the Archived Reports list. This list includes additional report information such as the analysis date/time, the number of pages analyzed, the report title, the starting URL and the depth of evaluation.
FAE organizes the analysis of documents based on the following rule categories:
Landmark
Use ARIA landmark roles to structure the content of each page and identify major sections of content, thus making them more findable and navigable. The use of landmarks will, in many cases, reflect the visual styling and page layouts that web designers utilize to set apart various sections of content.
Heading
Use heading elements (H1-H6) to provide appropriate labels for landmarks, and to identify subsections of content within landmarks.
Style/Content
Use proper HTML markup to identify the semantics and language of text content. Ensure that text is readable by adhering to color contrast guidelines, and that information is not conveyed solely by the use of color, shape, location or sound.
Image
Provide appropriate text alternatives for static images and graphics.
Link
Use link text that properly describes the target of each link. Ensure consistency and uniqueness for links that are usable, predictable and understandable.
Table
Provide table captions or other meta-information as needed. Provide row and column header references for data cells of data tables. Ensure that tables used for layout properly linearize text content.
Form
Provide meaningful labels for form elements and usable and understandable error feedback as needed.
Widget
Use appropriate event handlers on elements to support native interactivity using JavaScript. Ensure that custom widgets created using JavaScript support keyboard interaction and include ARIA markup to describe their roles, properties and states.
Audio/Video
Provide appropriate text transcripts, captions or audio descriptions for elements used in rendering audio and video content.
Keyboard
Provide logical and sequential keyboard navigation among interactive elements such as links and form controls. Use standard models of keyboard interaction for custom widgets.
Timing
Eliminate accessibility problems caused by time limits on input and by content that moves, scrolls, flashes or auto-updates.
Site Navigation
Ensure the consistent labeling and ordering of recurrent page sections across all pages within a website. Provide a meaningful title for each page within a website.
For more information on the FAE: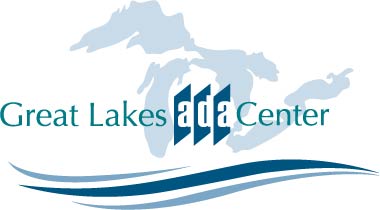 The Great Lakes ADA Center provides expert assistance via a national toll-free information line 800-949-4232 (V/TTY) or Online via Contact Us and presents customized trainings for employers, businesses, government, and individuals with disabilities regarding accessible technology and the Americans with Disabilities Act (ADA) of 1990.
Great Lakes ADA and Accessible IT Center
University of Illinois at Chicago
Department of Disability and Human Development (MC 728)
1640 West Roosevelt Road, Room 405
Chicago, IL 60608-6904