October - December 2014
Volume 9 Issue 1
ADA Center's quarterly Accessible Technology Bulletin
Technology Trainings & Events


(Central Standard Time)
Web Components and Accessibility
October 8, 2014 10am CST
Online
Closing the Gap Conference
October 15 - 17, 2014
Bloomington, MN
HighEdWeb Conference
October 19 - 22, 2014
Portland, OR
Online Learning Consortium International Conference
October 29 - 31, 2014
Orlando, FL
National Rehabilitation Education Conference
November 2 - 4, 2014
Arlington, VA
An Overview of Technology for Self-Sufficiency
November 12, 2014 6:30 - 8:00 PM CST
Online
Across the Lifespan
November 13 - 14, 2014
Wisconsin Dells, WI
Accessing High Ground: Accessible Media, Web, and Technology Conference
November 17 - 21, 2014
Westminster, CO
Accessible Web Graphics with SVG and Canvas
November 19, 2014 10am CST
Online
HTML5 & ARIA for Meeting WCAG 2.0 Success Criteria
December 9, 2014 10am CST
Online
Final 2014 Accessible Technology Webinar
The final session of the 2014 Accessible Technology Webinar Series is Thursday November 20, 2014 1:00 - 2:30pm CST
Accessibility Anywhere, CART and Captioning for Web Based Applications with Speaker Nick Wilkie, CEO StreamText.Net Inc
Nick Wilkie
This webinar will cover the entire process of delivering realtime captioning over the internet for a number of applications. With the rapid advancement of technology services can be provided in many locations that were not viable options just a few years ago. If you have a smartphone or an iPad you can now participate from almost anywhere. First we will review real caption applications including stadiums, providing services in the classroom and captioning of web based applications like Google Hangouts. We will also review who is really doing the work of converting speech to text. This includes covering a number of options from text interpreting, voice recognition and stenographers and how their technologies work. By the end of this webinar you should be familiar with the latest options for receiving real time captions and how the service is provided.
About our Speaker
Nick Wilkie is the CEO for StreamText.Net the leading platform for realtime text communication solutions. StreamText.Net is used by a majority of the CART and caption providers in the country to privide realtime acessibility for their cusotmers. Previously Nick held leadership roles in a number of technology companies working in industries that included Trade Shows, Hospitality and Ecommerce. Nick's technical skills combined with his experience working with CART and caption providers give Nick a unique perspective on accessibility solutions. Leveraging this experience Nick has worked with a number of companies like Google and Adobe to help them develop realtime captions into their applications. He continues to work to make universal design a standard by making accessibility a primary feature for web based applications. Nick is a graduate of the University of Wisconsin with a degree in Computer Science. He now lives in Atlanta Georgia and enjoys spending time with his family, skiing and throwing pottery.
The Accessible Technology Webinar series is free, but participants must register at http://www.ada-audio.org/
The Accessible Technology Webinar series is hosted and coordinated by the Great Lakes ADA Center and the Pacific ADA Center, members of the ADA National Network. The ADA National Network provides comprehensive services for up-to-date information, consultation, referrals, resources, and training on the Americans with Disabilities Act for businesses, employers, governmental entities, service providers and individuals with disabilities.
Share Your Ideas for 2015 Webinar Series
We are currently planning the 2015 Accessible Technology webinar series. We would love to hear your ideas and suggestions. You can email Janet Peters at jpete@uic.edu or share your ideas via this one question survey link: http://www.surveygizmo.com/
Accessible Way-Finding Using Web Technologies
The goal of Accessible Way-finding is to provide equal access to location information to people with visual disabilities. Without the ability to see surrounding location information, such as street signs and landmarks, it is difficult for a visually impaired person to determine the accurate direction to travel and to efficiently move from place to place. The inability to know location information can often result in fear, reluctance to leave one's home or known routes, and a consequent withdrawal from major life participation in work, family and community.
Way-finding includes applications and services to help people orient themselves, explore, and navigate through buildings, places, and cities. For example:
Navigation systems for drivers and passengers, cyclists, and pedestrians;
Interactive guides for museums, tourist attractions, and points of interest;
Orientation assistance for airports, hospitals, and public transportation.
Increasingly web technologies are used to provide such way-finding applications and services. This allows them to make use of web-based maps, location information, crowd-sourced reviews, and real-time data about the weather, traffic conditions, and other relevant aspects. It also allows the integration with and use of web-enabled sensors and actuators, and deployment on web-enabled devices such as mobile phones, televisions, overhead signage, glasses, watches, and other gadgets. Way-finding using web technologies enables new paradigms in many areas including mobility, travel, and tourism, and unprecedented opportunities for everyone.
In particular people with disabilities can greatly benefit from such way-finding applications and services, to gain more independence and self-determination. Examples of web-based maps, crowd-sourced information, and public data with accessibility information demonstrate the use of the Web to augment the physical world. Similarly, examples of specially created navigation and orientation systems, smart wheelchairs, smart canes, and other devices and applications demonstrate the potential of connecting the physical world with information on the Web to improve accessibility.
Also mainstream developments, including in the areas of near-field communication, open linked data, and self-driving vehicles, provide the potential for more versatile and cost-effective way-finding applications and services. However, it is unclear how well such mainstream way-finding applications and services address the accessibility needs of people with disabilities.
Some of the issues for mainstream way-finding systems to be accessible include data about the physical accessibility of places and routes, capabilities to use this data to select accessible routes, and capabilities to present the information in accessible modes.
To address this emerging need, the W3C (World Wide Web Consortium) will be hosting and online symposium on Accessible Way-Finding Using Web Technologies. This online symposium brings together researchers, practitioners, and users with disabilities, to explore new and on-going research and development in accessible way-finding using web technologies. It examines different technologies, applications, concepts, and solutions that help people with disabilities orient themselves, explore, and navigate through the physical world. The goal of this symposium is to explore current state-of-the-art in accessible way-finding, better understand the accessibility needs and preferences of people with disabilities, and explore promising web technologies and developments to provide accessible way-finding
QIAT-PS Recruiting Pilot Schools
The Quality Indicators for Assistive Technology in Post-Secondary education project offers tools and resources on quality implementation of assistive technology in the post-secondary educational environments. The project is sponsored by the Great Lakes ADA Center and the Southwest ADA Center, both members of the ADA National Network. QIAT-PS is a collaborative effort of hundreds of professionals from a wide variety of higher education and K-12 schools and based on the successful implementations of assistive technology indicators in K-12 public schools.
For the 2014 school year the Great Lakes ADA Center is recruiting participants, post-secondary educational institutions, in the Great Lakes states of Minnesota, Wisconsin, Ohio, Indiana, Illinois, and Michigan to be involved in the pilot study. The pilot study will assess our Campus Self-Evaluation Matrix. The Campus Self-Evaluation Matrix is a way for a school to do a self-evaluation of their own assistive technology service delivery.
Participation in the pilot study will receive online training on the Campus Self-Evaluation Matrix, consultation on setting priorities for improvement of Assistive Technology service deliver, and resources about Assistive Technology tools. If you are interested or have any questions, please contact us via the QIAT-PS contact form: http://qiat-ps.org/contact-us/
The QIAT-PS project tools, such as the Campus Self-Evaluation Matrix is available, however without participating in the pilot project. The website has details www.qiat-ps.org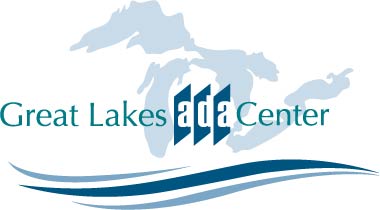 The Great Lakes ADA Center provides expert assistance via a national toll-free information line 800-949-4232 (V/TTY) or Online via Contact Us and presents customized trainings for employers, businesses, government, and individuals with disabilities regarding accessible technology and the Americans with Disabilities Act (ADA) of 1990.
Great Lakes ADA and Accessible IT Center
University of Illinois at Chicago
Department of Disability and Human Development (MC 728)
1640 West Roosevelt Road, Room 405
Chicago, IL 60608-6904