Accessible Technology Bulletin
A Free Resource From the Great Lakes ADA Center
January 2008
Volume 2 Issue 2
We offer Technical Assistance and Training on Accessible Technology
For more information, call 800-949-4232 (V/TTY)
Welcome to the DBTAC: Great Lakes ADA Center's quarterly Accessible Technology Bulletin
Technology Trainings & Events


(Central Standard Time)
Universal Web Design
January 17 - 18, 2008
Chicago, IL
This hands-on course focuses on making web resources compatible with the widest range of web browsing technologies which can also easily adapt to the needs and capabilities of users through the use of web standards. For more information visit:
Leadership Forum on Accessibility
January 31 – February 1, 2008
Orlando, FL
This forum is sponsored by the Assistive Technology Industry Association (ATIA) and targeted for those in the corporate environment. There is a registration fee. For more information go to:
2008 Accessible Technology On-line Seminar Series: State Laws Addressing Accessibility
February 11, 2008 1:00 – 2:00pm
On-line
The Role of Technology in Response to Intervention
February 11, 2008 10:00am;
February 28, 2008 2:00pm
Online
This webinar session will discuss the role of technology in response to intervention with the experts at the new National Center for Response to Intervention. For more information:
Web Accessibility Training
February 20 - 21, 2008
Logan, UT
This hands-on training session, sponsored by Webaim, will teach basic web accessibility principles and to advanced accessibility techniques. For more information:
2008 Accessible Technology On-line Seminar Series: Web Accessibility For Students with disabilities
March 3, 2008 1:00–2:00pm
On-line
Web Based AT Solutions
March 3, 2008
Bloomington, MN
This workshop covers web based resources used as assistive technology. These resources are not dependent on your computer platform, including programs such as CustomTyping and TheraSimplicity. Sponsored by PACER Center. For more information visit:
California State University Northridge (CSUN) Annual Assistive Technology Conference
March 10 – 15, 2008
Los Angeles, CA
This international conference is sponsored by the Center for Disabilities at CSUN. There is a fee, for more information visit:
Assistive Technology Across the Lifespan
March 22 – 23, 2007
Stevens Point, WI
This conference is jointly sponsored by the Wisconsin Assistive Technology Initiative and WisTech Assistive Technology Program. For more information visit:
How State Government is Addressing Website Accessibility
Web site accessibility continues to grow in importance as more constituents with disabilities incorporate the Internet into their daily lives.
The World Wide Web Consortium (W3C) estimates that 10 percent to 20 percent of the population in most countries has disabilities. The W3C said not all of those disabilities affect access to the Web, but problems with vision, hearing, dexterity and short-term memory can have a significant impact on a person's ability to use online information and services. Many state governments are finding that these technologies are not accessible to citizens with disabilities in their state.
The lack of accessible information technology can prevent individuals with disabilities from participating on equal terms in crucial areas of life, such as education and employment.
However, addressing access problems is a doable task; many states have taken steps to ensure their Web sites meet the minimum accessibility standards. Several have endorsed accessibility policy states or have passed specific laws addressing accessible and equal access to information technology.
Join Us for the First of the 2008 Accessible Technology On-line Seminar Series
The DBTAC-Great Lakes ADA Center is hosting a free on-line seminar highlighting the recently passed Illinois Information Technology Accessibility Act and progress in other regional states regarding accessibility on
February 11, 2008 at 1 - 2 pm (Central Standard Time)
Guest Speaker: Mike Scott
Mike Scott is an assistive technology and accessibility specialist, currently focusing his efforts on improving the accessibility of information systems for people with disabilities. Mike works with a wide range of public- and private-sector clients to help assess the accessibility of existing systems, design and develop new accessible systems, and train staff on how to successfully implement accessibility in system design and development.
Mike has spearheaded many accessibility initiatives, including development of the Illinois Web Accessibility Standards and the Illinois Information Technology Accessibility Act.
Readspeak Extends Website's Usability
Want a way to extend the usability and accessibility of your website? ReadSpeaker is a server-based product, developed in Europe, that speech-enables your website for the benefit of people who would like to have your website read out loud. It is especially useful for people with dyslexia or learning disabilities, low literacy level, people with English as a second language, elderly with impaired vision and others that like to listen as well as read.
Readspeaker is user friendly because there is no "plug in" or software to load, individuals just have the option of having the site read by clicking on the "Say It" icon and speech starts within no more than a few seconds of clicking It reads the website on both static and dynamic pages.
Other helpful features include custom dictionaries which can be edited to ensure correct pronunciations on the web site for industry specific vocabulary, documents posted on the webpage, including documents in PDF and Word, an option to download the spoken review as an mp3 or wav file, and can work well on slower Internet connections.
While ReadSpeaker can enhance the accessibility of a website, it does not automatically make a website compliant with current accessibility standards. The most important thing for making a website accessible is to make sure that it follows published guidelines and test the site with a variety of users including people with disabilities. ReadSpeaker reads pages that follow these standards very well, but does not itself increase the accessibility.
To learn more about Readspeaker visit their website at www.readspeaker.com.
The following are examples of websites that have implemented Readspeaker:
Mark Your Calendar for the 2008 Accessible Technology On-line Seminars
The DBTAC: Great Lakes ADA Center is sponsoring a new on-line seminar series on accessible technology in 2008. The goal of the series is to increase awareness on technology accessibility for people with disabilities. All times are listed in Central Standard Time.
State Laws Addressing Accessibility - Monday February 11, 2008 1:00 - 2:00pm
Several states have passed and implemented laws specific to website and other technology accessibility. This seminar will highlight the recently passed Illinois Information Technology Accessibility Act and talked about other states that have implemented such laws.
Web Accessibility for Students with Disabilities - Monday March 3, 2008 1:00 - 2:00pm
In 1987, 3.6% of youth with disabilities went on to two year colleges, while in 2003, 20.8% did so. Attention to the learning and information technology of these youth is imperative, if they are to gain equitable access both to education and subsequently to employment. This presentation will provide information on a web-based tool for community college student affairs and information technology personnel to assist in the formulation of a campus-wide plan for web and IT accessibility for students with disabilities. This tool was an outgrowth of several years of research conducted by the Employment and Disability Institute and Institute for Community College Development in the ILR School at Cornell University.
Accessible Computer Applications - Monday May 19, 2008 1:00 - 2:00pm
Many jobs now require interaction with various computer applications, such as record keeping and database systems. Inaccessibility of these applications can seriously hinder job performance for individuals with disabilities. This seminar will discuss accessibility issues with common workplace computer applications and how to make them accessible.
ADA and Website Accessibility - Monday August 11, 2008 1:00 - 2:00pm
The Americans with Disabilities Act (ADA) does not explicitly discuss whether it applies to websites, and thus far, there have been few cases. Website accessibility cases courts have reached different conclusions as to whether websites are covered under the ADA. This session will discuss recent legal developments and their potential implications.
Learning and Accessibility - Monday September 29, 2008 1:00 - 2:00pm
It is expected that e-learning will become part of everyday life in many organizations in the next few years. As e-Learning expands, the gap will widen between people who can fully benefit from e-Learning and those who will be excluded because of inaccessible design. This seminar will address strategies for businesses to improve their knowledge and implementation of accessible e-Learning.
The seminar series is free, but pre-registration is required. Please
contact Janet Peters on-line
to register for a session or for more information and/or questions.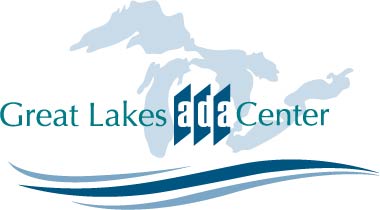 The Great Lakes ADA Center provides expert assistance via a national toll-free information line 800-949-4232 (V/TTY) or Online via Contact Us and presents customized trainings for employers, businesses, government, and individuals with disabilities regarding accessible technology and the Americans with Disabilities Act (ADA) of 1990.
Great Lakes ADA and Accessible IT Center
University of Illinois at Chicago
Department of Disability and Human Development (MC 728)
1640 West Roosevelt Road, Room 405
Chicago, IL 60608-6904