Great Lakes ADA Center Blog
A Tale of 12 Cities: What Makes a High-Quality Transition Plan?
By Kelley Frake, June 22, 2023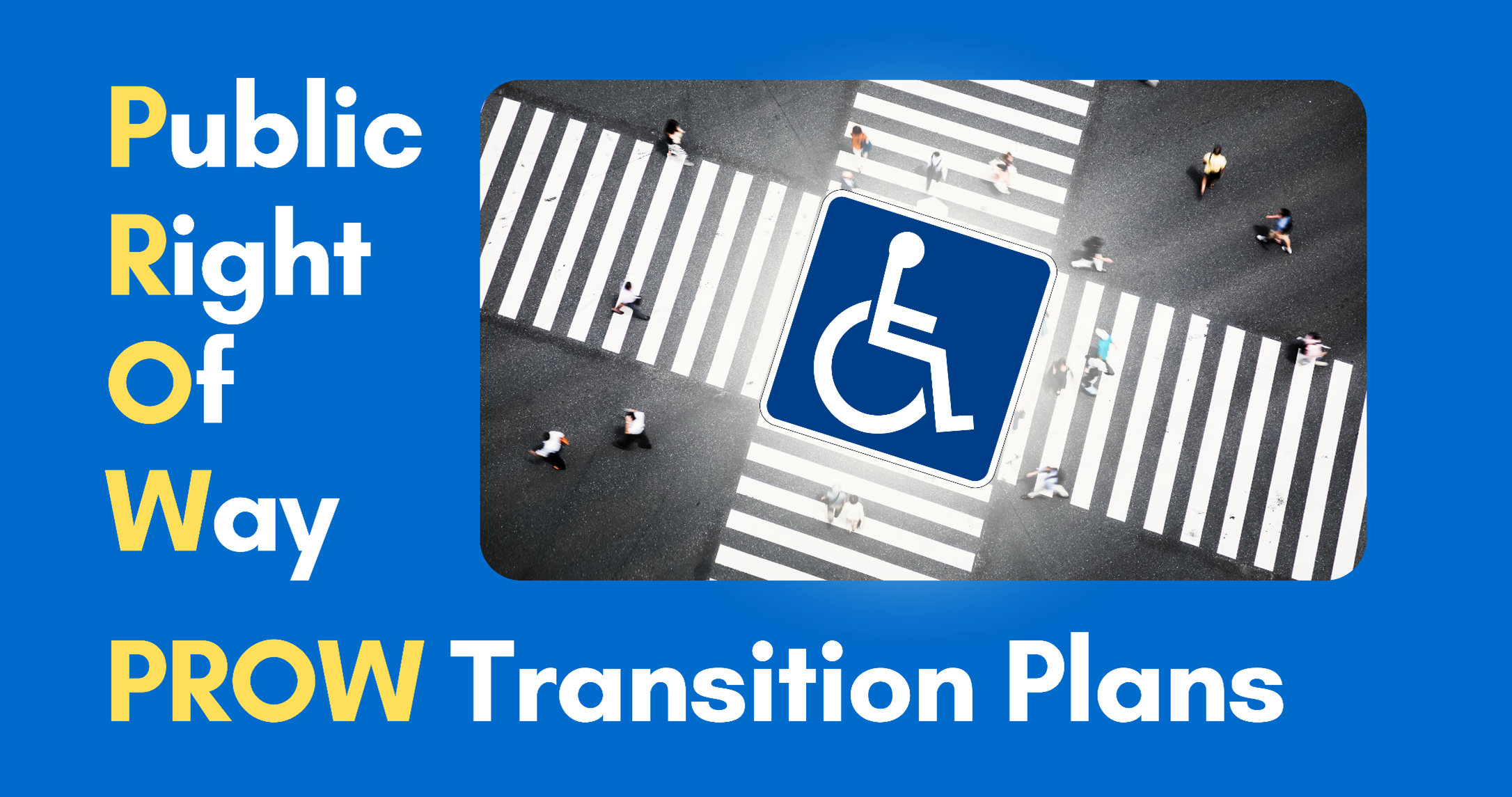 The ADA Title II deadline for state and local governments to conduct a self-evaluation and create a transition plan has long passed. However, recent lawsuits involving the pedestrian environment and major cities like Chicago and Philadelphia have shown that the need for comprehensive, high-quality transition plans is more relevant than ever. But what separates a 'high-quality' transition plan from a low-quality plan? What are the key ingredients for a successful plan? How does a city ensure effective implementation?
In order to answer these questions, researchers Delphine Labbé and Yochai Eisenberg from the University of Illinois Chicago's Great Lakes ADA Center interviewed ADA Coordinators and their municipal planning teams from across the United States about their ADA transition plans for updating sidewalks, curb ramps, pedestrian signals, and other areas of the public right-of-way. Based on these interviews, the team identified the best practices and key resources used by planning teams and organized them into a collection of 12 municipality case studies that highlight the key elements for successful ADA transition planning shared across the different communities.
The following 12 cities and their transition plans are featured in the casebook:
Monticello, IN
Oakland, CA
Brempton, WA
Naperville, IL
Federal Way, WA
Tempe, AZ
Gallatin, TN
Austin, TX
Jacksonville, NC
Burlington, IA
Greencastle, IN
Bend, OR
Quality Indicators for Transition Plans
Each plan in the casebook was evaluated using quality indicators based on mandatory ADA transition plan requirements:
QUALITY INDICATORS
DEFINITION

Community Enagagement

Opportunity for meaningful public engagement by involving the public including people with disabilities in the planning process. This could be done by providing an opportunity for public comment, gathering input and prioritizing barriers.

Self-Evaluation Inventory

Audit of existing barriers (i.e., identification of physical obstacles) in the public rights-of-way.

Responsible Stakeholders

Responsible stakeholders responsible for the development and implementation of the plan were identified, such as ADA coordinators or other officials.

Funding & Other Resources

Outlined budget and identified potential funding sources for executing the plan as well as the knowledge and skills needed, training required, process and time invested to implement the plan.

Implementation

Methods and Schedule: Methods for barrier removal including policy changes and systems of prioritization. High quality plans include a schedule for implementation and barrier removal.

Monitoring Progress: Strategies to monitor the implementation progress. This could be through periodic updates, an annual review, or quarterly report.
Case Study Examples
The following are examples from the different case studies that illustrate how different municipalities created their plans and implemented solutions:
QUALITY INDICATORS
EXAMPLES

Community Enagagement

Monticello, IN: Monticello worked primarily with their disability advisory committee to develop and implement their plan. While some municipalities reported struggling to reach community members with disabilities, Monticello had so much interest that they implemented a wait list and a system of terms to be a voting member of the advisory committee.

Bremerton, WA: Bremerton published a draft of their transition plan and held an online public response/comment period. The city also shared it with the city council.

Self-Evaluation Inventory

Burlington, IA: Burlington's self-evaluation inventory was based on Geographic Information Systems (GIS) and aerial or satellite photography. They mapped the data and stored it in a geospatial database with maps that display the level of ADA compliance in areas targeted for barrier removal.

Tempe, AZ: Tempe used consultants to complete their self-evaluation which included sidewalks, curb ramps, signalized intersections, bus stops, parks and other facilities. They divided the city into 3 parts that were added sequentially. The consultant used a system that took laser measurements from a Segway.

Jacksonville, NC: Jacksonville focused only on curb ramps and conducted their evaluation in-house. They prioritized high-visibility areas (e.g. parks, schools) as well as the downtown area as it was the oldest part. Jacksonville was broken down into 6 parts with the city aiming to complete one section per year.

Responsible Stakeholders

Naperville, IL: The city engineer was the responsible official for planning. The engineering department was primarily responsible for the majority of the fieldwork and the ADA Coordinator in the city manager's office was the point of contact for complaints. The ADA planning team also had the support of the elected officials.

Gallatin, TN: The City of Gallatin's Risk Manager was the responsible official for the transition plan. The city also developed a committee with the city Engineer, special Projects Director, Risk Manager, and the Road Superintendent.

Federal Way, WA: The Deputy Public Works Director served as the ADA Coordinator. The city prioritized cross-department collaboration to tackle the sheer quantity of work which meant that almost all departments were involved in the development of the plan. Construction inspectors who typically have a work lag during the winter were also involved in the self-evaluation inventory. It then became part of their work to inspect the implementation of the plan in the facilities.

Funding & Other Resources

Austin, TX: The city explored possible funding options for existing sidewalk repair and construction and organized them into a matrix of possible funding options. This included various ways to raise funds, such as enforcement fees and new development sidewalk impact fees, as well as leveraging existing funds for sidewalk construction and repair, such as state Department of Transportation (DOT) funding or the city's complete streets program.

Bend, OR: As a result of disability advocates pushing for more accessibility funding, half of the water/sewer fees were allocated to the curb ramp accessibility program. Bend also had a gas tax to provide additional funding as a ballot measure, but the measure did not pass and they had to re-evaluate funding options. Bend's ADA coordinator was an added resource as she had a graduate degree in disability rights and worked as a technical assistant for an ADA Technical Assistance Center. This gave her a strong understanding of transition plans and the applicable regulations.

Implementation

Oakland, CA: Oakland made a specific schedule with a goal of fixing 500+ curb ramps per year with a target to have fully compliant curb ramps by 2029. However, priority is given to requests by people with disabilities even if not scheduled. Oakland plans to monitor progress by coordinating inspections, preparing and publishing reports, and logging curb ramp installations in the City Curb Ramp Database.

Greencastle, IN: Greencastle has added and/or fixed all needed ramps according to their transition plan's completion goal of 2022. A larger portion of the budget was allocated to accessibility after the plan was developed. Greencastle monitored progress annually by comparing what was scheduled in the ADA transition plan with the changes implemented by all departments.
Key Elements for Success
While each municipality adapted their planning process based on local needs and available resources, the most successful municipalities shared the following key components in their ADA transition plans:
QUALITY INDICATORS
KEY ELEMENTS FOR SUCCESS

Community Enagagement

Disability Involvement: Having strong links with local disability organizations or an advisory committee of people with disabilities seemed to be particularly helpful in the development of a transition plan.

Self-Evaluation Inventory

Targeted Approach: Conducting a targeted self-evaluation to initiate the process helped to make it less daunting and more feasible (i.e. starting by focusing on one feature of the pedestrian infrastructure, such as curb ramps).

Appropriate Evaluation Method: Choosing to conduct the self-evaluation inventory in-house or by hiring a consultant was dependent on the human and financial resources available.

Responsible Stakeholders

Effective ADA Coordinator: Having an ADA coordinator with a clear role and responsibilities, and with a certain level of "power" facilitated the development and evaluation of the ADA transition plan.

Stakeholder Support: Having other stakeholders who work closely with the ADA coordinator also supported the process.

Funding & Other Resources

Budget Integration: Being creative and integrating the ADA requirement as part of other budget areas was often how successful municipalities made it work. However, funding sources varied greatly among the successful municipalities.

Implementation

Specific Timeframes: Having a specified target for achieving barrier removal was helpful. Although, the timeframe for the implementation varied between 10 to 29 years.

Reasonable Goals: Having clear but reasonable goals facilitated the start of the process and helped municipalities not become overwhelmed by the amount of barrier removals needed.

Yearly Monitoring: Monitoring progress yearly was important in the implementation of the plan. The reports made to leadership or elected officials helped build ongoing support for funding and other resource allocation.
Visit the Great Lakes ADA Center webpage on ADA Transition Plans and their Role in the Development of Accessible Cities to review the full resource on Creating High-Quality ADA Transition Plans for the Pedestrian Environment: A Casebook of Success Stories and provide feedback on the casebook.
For questions on ADA requirements for accessible cities, contact the Great Lakes ADA Center at 1-800-949-4232 or adagreatlakes@uic.edu.