Great Lakes ADA Center Blog
50 Years Strong: Programs You May Not Know Exist Because of the Rehabilitation Act
Blog submitted by Kelley Frake. Published on October 18, 2023.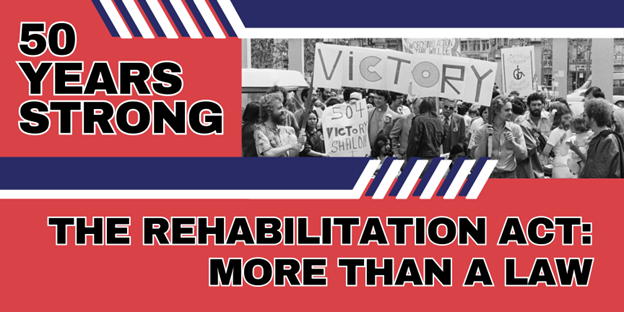 This year, as we celebrate the 50th Anniversary of the Rehabilitation Act, it can be easy to forget just how impactful this law was in setting a standard for disability inclusion in federally funded programs across the United States. Most people who work in the ADA world are familiar with how the Rehabilitation Act became the model for the ADA and expanded disability non-discrimination requirements to other areas of employment (not just federal employers) as well as to state and local governments and places of public accommodation. However, what many do not know is how the Rehabilitation Act continues to provide services and supports alongside the ADA 50 years down the road.
While you may be familiar with the commonly used sections of the Rehabilitation Act related to federal employees, contractors and information technology (e.g. Section 501, 504, 508), many are not aware of the various programs, services and activities that were created as a result of this law.
Here are just a few of the programs that were authorized and continue to be supported under the Rehabilitation Act: